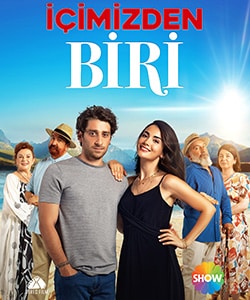 Details
Original Title: Icimizden Biri
English Title: One of Us
Also Known As:
Genre: Comedy
Episodes: 6 episodes (each episode is 120 minutes)
Broadcast Network: Show Tv
Broadcast Period: 12 September 2021 – 19 October 2021
Production Company: Surec Film
Director: Ersoy Guler
Screen Writer: Ersoy Guler
Filming Locations: Marmaris / Mugla, Turkey
Synopsis
Havva (Ozge Yagiz) is a beautiful, young girl who is a research assistant at the university. She has a cozy life in Marmaris together with her family who adheres strongly to its traditions. She is an ordinary Muslim girl.
Adam (Bora Akkas), on the other hand, is the son of an Irish Catholic pastor. His father William (Renan Bilek) loves Turkey similar to other Irish people from Drogheda due to fact that Ottoman Empire supported their economy when Ireland suffered from the economic crisis.

Adam has grown up in Turkey after his family comes to Marmaris and decides to live there. For this reason, Adam has both Turkish citizenship and Irish citizenship. He also works as a research assistant at the same university where Havva works.
Adam falls in love with Havva at first sight even though they have grown up worlds apart. They start to date secretly from their families. This is because, Havva knows that her conservative father Hunkar (Mustafa Avkiran) would not let her daughter get married to a non-Muslim guy. At the same time, Adam knows that his family would not approve his marriage to a Muslim girl.
After 2 years of happy dating, Adam and Havva decide to get married. However, they need to persuade their families for this marriage.
Adam does his best to win the approval of Havva's family, even converting religion and rejecting his traditions. However, this also does not make things easier for either Havva and him.
One of Us (Icimizden Biri) tv series story is about Adam and Havva who have grown up worlds apart but fall in love with each other. Will Adam and Havva manage to persuade their families and get married? What kinds of obstacles do Adam and Havva need to pass in order to reach their gold? Will Havva's sisters and brother support the relationship of Adam and Havva?
One of Us (Icimizden Biri) Tv Series Cast
Additional Cast Members
Faruk Akgoren as Bahtiyar Tatlili
Ozan Can Yigit as Bahri
Metin Canak
Irem Tuncer as Fatos
Pelin Sukruoglu
Nil Kilincoglu
Hira Nur Eyigun
External Links
Broadcast Network: Broadcast Network
English Wikipedia:
Imdb:
Social
Instagram: Official Instagram Account
Twitter: Official Twitter Account
Facebook:
Youtube Channel: Official Youtube Channel
You Might Also Like
New Bride (Yeni Gelin)
Foreign Groom (Yabanci Damat)
One of Us (Icimizden Biri) Tv Series Trailer (with English Subtitle)
One of Us (Icimizden Biri) Turkish Drama Trailer (with English Subtitle)
İçimizden Biri 1. Bölüm Fragman (12 Eylül Pazar Başlıyor.)