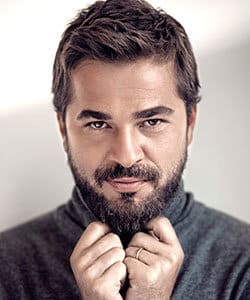 Profile
Name: Engin Altan Duzyatan
Birthdate: July 26, 1979
Birthplace: Izmir, Turkey
Height: 1,85 m
Eye Color: Brown
Hair Color: Brown
Education: Dokuz Eylul University Theatre (Dokuz Eylul Universitesi Tiyatro)
Talent Agency:
Spouse: Neslisah Alkoclar (m. 2014-present). Engin Altan Duzyatan dated Turkish actress Ozge Ozpirincci during 2008-2013 but the couple broke up on October 2013.
Children: Emir Aras Duzyatan (January 9, 2016); Alara Duzyatan (August 17, 2018)
Biography: Engin Altan Duzyatan is an actor and television presenter. He started to take part in theatre plays during high school. After graduation, he moved to Istanbul and started his career as a model. After then, he took part in various television dramas and films. Engin Altan Duzyatan became popular with his role in Turkish drama "Beyond the Clouds (Bir Bulut Olsam)". He also took part in various theatre plays such as Kurklu Merkur (2007-2008); Anna Karenina at Kenter Theatre (2006) and Life in Tight Shoes at Diyarbakır State Theatre (2012). Engin Altan Duzyatan was also a presenter of a television competition program named as The Million Lira Drop Live (2010).

Engin Altan Duzyatan Tv Series / Movies
1997 – Ruhsar
2001 – Our Hotel (Bizim Otel) (as Altan)
2001 – Istanbul Seven Hills (Yeditepe Istanbul)
2002 – My Coach (Kocum Benim) (ar Orcun)
2003 – Twilight (Alacakaranlik) (as Doktor)
2003 – Hurrem Sultan (as Bayezid)
2003 – Kampus (Kampusistan) (as Levent)
2003 – Sealed Roses (Muhurlu Guller) (as Engin)
2004 – Azize (as Efe)
2004 – The Time of the Heart (Kalbin Zamani) (as Demir) (Movie)
2004 – Start All Over Again (Sil Bastan) (as Cihan)
2005 – Troublesome Sister-in-Law (Belali Baldiz) (as Vedat)
2005 – Shattered Soul (Beyza'nin Kadinlari) (as Koray) (Movie)
2005 – Women Are Always Right (Kadin Her Zaman Haklidir) (as Pekcan)
2006 – Coming Home (Sila)
2007 – Unforgiven (Affedilmeyen) (as Orhan)
2007 – The Heaven (Cennet) (as Can) (Movie)
2007 – My Dear in-Laws (Sevgili Dunurum) (as Murat)
2008 – Do You Have a Courage for Love (Cesaretin Var mi Aska) (as Tamer)
2008 – Lace (Dantel) (as Emre)
2008 – China Gateway (Cin Gecidi) (Movie)
2009 – Beyond the Clouds (Bir Bulut Olsam) (as Serdar Batur)
2009 – 2010 Grand Bazaar (Kapali Carsi) (as Firat)
2009 – Graduation (Mezuniyet) (Movie)
2010 – A Handful of Sea (Bir Avuc Deniz) (as Mert Akbay) (Movie)
2010 – Five Minarets in New York (Newyork'ta Bes Minare) (as Timur) (Movie)
2010 – Romantic Comedy (Romantik Komedi) (as Cem) (Movie)
2010 – Merry Family (Sen Yuva) (guest actor)
2011 – Anatolian Eagles (Anadolu Kartallari) (as Kemal Tanacan) (Movie)
2012 – Saint Ayse (Aziz Ayse) (Movie)
2012 – Let It Be The Last (Bu Son Olsun) (as Sinan) (Movie)
2012 – The End (Son) (as Halil)
2012 – 2013 Crossing (Yol Ayrimi) (as Murat)
2013 – Way of Loneliness (Bu Iste Bir Yalnizlik Var) (as Mehmet) (Movie)
2013 – Romantic Comedy 2 (Romantik Komedi 2: Bekarliga Veda) (as Cem) (Movie)
2014 – Murder (Cinayet) (as Yilmaz Seyhan)
2014 – Ciragan Raid (Ciragan Baskini) (as Poldi Mustafa)
2014 – 2019 Resurrection Ertugrul (Dirilis: Ertugrul) (as Ertugrul)
2015 – Ve Panayir Koyden Gider (as Ali) (Movie)
2016 – Ve Perde! (Movie)
2017 – Bilal: Ozgurlugun Sesi (as Bilal) (Movie)
2019 – Bullet (Kursun) (as Orhan Atmaca)
2021 – 2022 Barbarossa: Sword of the Mediterranean (Barbaroslar: Akdeniz'in Kilici) (as Oruc Reis)
2022 – My Father's Violin (Babamin Kemani) (as Mehmet Mahir) (Movie)
2022 – Stickman (Cop Adam) (as Tamer Yilmaz)
Awards
2012 –

Los Angeles Movie Awards– Best Actor (A Handful of Sea)

– En Iyi Erkek Oyuncu (Bir Avuc Deniz)
2015 –

6.Quality Of Magazine Awards (6.Quality Of Magazine Dergisi Odulleri) – Best Quality Actor (Resurrection Ertugrul)

– En Quality Erkek Oyuncu (Dirilis Ertugrul)
2016 –

3.Mersin Golden Palm Awards (3.Mersin Altin Palmiye odulleri) – Best Turkish Drama Actor of the Year (Resurrection Ertugrul)

– Yilin Erkek Dizi Oyuncusu (Dirilis Ertugrul)
2016 –

4.Mimar Sinan Fine Arts High School Awards (4.Mimar Sinan Guzel Sanatlar Lisesi Odulleri) – Most Successful Actor of the Year

– Yilin En Basarili Erkek Oyuncusu
2016 –

7.KTU Media Awards (7.KTU Medya Odulleri) – Best Actor (Resurrection Ertugrul)

– En Begenilen Erkek Oyuncu (Dirilis Ertugrul)
2016 –

12. Snow Film Festival Awards (12.Kar Film Festivali Odulleri) – Best Actor (Resurrection Ertugrul)

– En Iyi Erkek Oyuncu (Dirilis Ertugrul)
2016 –

Internet Medyasi (Internet Medyasi) – Best Turkish Drama Actor of the Year (Resurrection Ertugrul)

– Yilin Erkek Dizi Oyuncusu (Dirilis Ertugrul)
2017 –

11.Makinistanbul Media, Art and Sport Awards (11.Makinistanbul Medya, Sanat ve Spor Odulleri) – Best Turkish Drama Actor (Resurrection Ertugrul)

– En Iyi Erkek Dizi Oyuncusu (Dirilis Ertugrul)
Theatre Plays
2006 – Anna Karenina
2007 – 2008 Kurklu Merkur
2012 – Dar Ayakkabi Ile Yasamak
Social
Instagram: @enginaltandzytn
Twitter: @eadksk
Facebook: @enginaltanduzyatanofficial
Mail: [email protected]
Youtube Channel: @EnginAltanDuzyatanOfficial
Trivia
Body Type:
Skills:
Star Sign:
Blood Type:
Hobbies:
Engin Altan Duzyatan Gallery
Magazine Cover
Showreel
Engin Altan Duzyatan Showreel