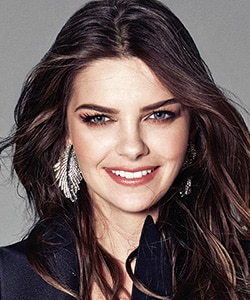 Profile
Name: Pelin Karahan
Birthdate: October 6, 1984
Birthplace: Ankara, Turkey
Height: 160 cm
Eye Color: Blue
Hair Color: Brown
Education: Anadolu University Tourism Management (Anadolu Universitesi Turizm Isletmeciligi Bolumu)
Talent Agency:
Spouse: Erdinc Bekiroglu (m. 2011–2013), Bedri Guntay (m. 2014-present)
Children: Ali Demir Guntay, Can Eyup Guntay
Biography: Pelin Karahan was born in 6 October 1984 in Ankara. She completed her primary school education at Ari College, and then continued to study at Ankara Gaziosmanpasa Primary-Secondary School and Odemis Primary-Secondary School. After then, she studied at Ankara Sokullu Mehmet Pasa High School and studied tourism management at Anatolia University. She came to Istanbul to work and was registered to Erberk Agency. She made her debut with her role at Daydreaming (Kavak Yelleri). Pelin Karahan got married to Pilates trainer Erding Bekiroglu in October 2011 and got divorced in 2013. Pelin Karahan got married to businessman Bedri Guntay in 24 June 2014.
Pelin Karahan Tv Series / Movies
2007 – 2011 Daydreaming (Kavak Yelleri) (as Asli Zeybek)
2012 – 2014 Magnificent Century (Muhtesem Yuzyil) (as Mihramah Sultan)
2012 – Blue Butterflies (Mavi Kelebekler)
2015 – 2016 Yeter (as Aylin Harmanli)
2018 – Yuvamdaki Dusman (as Tulin)
2021 – Once Upon A Time in Cyprus (Bir Zamanlar Kibris) (as Inci Dereli)
Awards
2011 – Media and Art Awards (Medya ve Sanat Odulleri) – Best Actress (Daydreaming) – En Basarili Kadin Dizi Oyuncusu (Kavak Yelleri)
2015 – BIAF-Beirut International Awards Festival – Best Actress (Magnificent Century) – En Iyi Kadin Oyuncu (Muhtesem Yuzyil)
Social
Instagram: https://www.instagram.com/pelinkarahan/
Twitter: https://twitter.com/pelinkarahan
Facebook: https://www.facebook.com/pelinkarahanofficial
E-Mail: [email protected]
Official Website: http://www.pelinkarahan.com.tr/
Magazine Cover Shooting
Şubat Sayısı Kapak Kızı Pelin Karahan