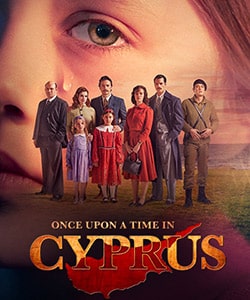 Details
Original Title: Bir Zamanlar Kibris
English Title: Once Upon A Time in Cyprus
Also Known As: Kibris: Zafere Dogru
Genre: Historical, Drama
Episodes: 12+
Broadcast Network: TRT 1
Broadcast Period: 1 April 2021 –
Production Company: TMC Film
Director: Hakan Inan
Screen Writer: Emre Ozdur, Basar Basaran
Filming Locations: Gazimagusa town of Northern Cyprus
Synopsis
The story takes place in the island of Cyprus in 1963 and shows how the island is divided into two: Turkish part in the north and Greek part in the south.
Dereli family is a well-known family in Cyprus. Kemal Dereli (Ahmet Kural) is a successful gum merchant who lives happily together with his wife Inci (Pelin Karahan), his two daughters, his father Salahi (Ahmet Somers), his mother Sitkiye (Deniz Baytas) and his sister Pembe (Miray Akay).
The life of Dereli family turns upside down due to a terrorist organization named EOKA. When Kemal leaves his hometown to sell his products, his hometown is attacked by EOKA. Dereli family torn apart all of a sudden, Inci and her daughter Muge are taken captive while father Salahi gets injured.

When Kemal returns to his hometown, he finds himself in the middle of chaos. He witnesses that many Turkish Cypriots are killed in his hometown. He becomes devasted when he learns that his wife Inci and his daughter Muge are taken captive. He does not know what will happen to them for this reason, he feels hopeless.
Kemal thinks that all captives are sent to Lefkosa district. Thus, Kemal wants to go there in order to save his wife and his daughter. However, he cannot leave his parents and other Turkish people behind.
Kemal becomes a leader for a group of people who are forced to leave their lands where they were born and grew up. While Turkish people start to migrate to a safe zone (pass through green line), Kemal does his best to protect them. On this difficult journey, Kemal shows a great courage together with his childhood friend Dervis (Hasan Kucukcetin).
Meanwhile, representatives of Turkish Cypriots, Rauf Denktas (Devrim Saltoglu) and Dr. Fazil Kucuk (Hakan Guner) ask for international assistance to protect the Turkish Cypriots. They try to do their best to show what is happening in Cyprus and how Turkish Cypriots are slaughtered. They want an intervention from the guarantor powers of Cyprus (Turkey, Greece, and the United Kingdom) in order to end this chaos.
Since the establishment of terrorist organization EOKA in 1955, the constitutional rights of Turkish Cypriots have been infringed and they have been forced to leave the island.
The island consists of Christian Greek Cypriots and Muslim Turkish Cypriots. Ethnic Greeks of the island want to unite Cyprus with Greece ("enosis") whereas Turkish Cypriots consistently oppose the idea of union with Greece.
Turkey, as a guarantor power, does not get involved in Cyprus issue in 1963 but sends a successful man in order to understand what is actually happening.
Ankarali (Serkan Cayoglu) is an intelligent and fearless intelligence officer who is about to get married to Ayse (Gulper Ozdemir). After his duty in Soviet Union, he thinks that he would be free for a couple of years. Thus, he plans to get married and have a peaceful life for a while.
Ankarali is given a new duty in Cyprus. At first, he becomes reluctant to leave his fiancée behind. However, he eventually decides to accept the duty when he sees the photos coming from Cyprus. He needs to be successful in the challenging mission of protecting Turkish Cypriots.
Ankarali gets a new identity and goes to Cyprus as a ministry inspector. He is on a new road of no return. Hence, he sends a letter to his fiancée and says that "Don't wait for me. Forgive me if you can."
Ayse is a young doctor who loves Ankarali to death. Whenever she gets a letter from her fiancée, she understands that her fiancée has disappeared due to a secret duty. She cannot say anything to her family and finds it so hard to wait without even knowing whether her fiancée is alive or not.
Ayse is a very strong and stubborn girl. She comes from a wealthy family. Instead of leaving her fiancée behind and choosing a peaceful life, she is determined to wait for her fiancée. She even wants to go to Cyprus as a volunteer doctor.
Ankarali does his best in order not to draw attention. He acts as if he is frivolous and feckless while secretly gathering data and helping Turkish Cypriots. He becomes a mysterious hero that becomes the hope for Turkish Cypriots.
Ankarali has to fight against terrorist organization EOKA and his supporters Samson (Tayanc Ayaydin), Grivas (Nebil Sayin), and Makaryos (Emre Torun). EOKA does anything to force Turkish Cypriots escape from the island so that there would be no Cyprus problem.
Once Upon A Time in Cyprus (Bir Zamanlar Kibris – Kibris Zafere Dogru) tv series story is about the sufferings of Turkish people in Cyprus. Will Cyprus be divided into two parts or be united with Greece? Will Kemal Dereli manage to save his wife Inci and his daughter? Will Ankarali manage to become successful on his mission of protecting Turkish Cypriots? Will Ankarali and Ayse come together eventually and have a peaceful life afterwards?
Once Upon A Time in Cyprus (Bir Zamanlar Kibris / Kibris Zafere Dogru) Tv Series Cast

Additional Cast Members

External Links
Official Site: https://www.trt1.com.tr/diziler/kibris-zafere-dogru
English Wikipedia:
Imdb:
Social
Instagram: https://www.instagram.com/kibrisdizisitrt/
Twitter: https://twitter.com/KibrisDizisiTRT
Facebook: https://www.facebook.com/KibrisDizisiTRT
Youtube Channel: https://www.youtube.com/channel/UCRqon12VclbXbvCpzpO7mbg
You Might Also Like
Wounded Love (Vatanim Sensin)
Bullet Wound (Kursun Yarasi)
Once Upon A Time in Cyprus (Bir Zamanlar Kibris – Kibris Zafere Dogru) Turkish Drama Relationship Chart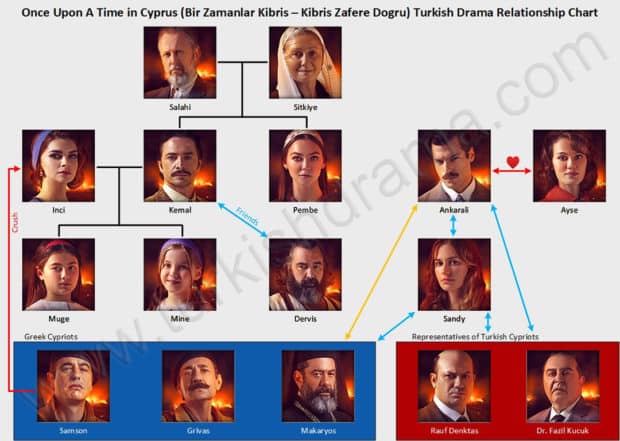 Once Upon A Time in Cyprus (Bir Zamanlar Kibris) Turkish Drama Trailer (with English Subtitle)
Once Upon A Time in Cyprus (Bir Zamanlar Kibris) Tv Series Trailer (Eng Sub)