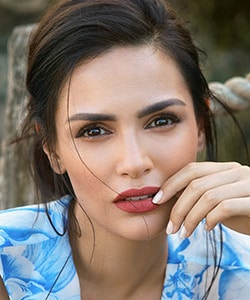 Profile
Name: Sebahat Kumas
Birthdate: May 12, 1989
Birthplace: Aydin, Turkey
Height: 169 cm
Eye Color: Brown
Hair Color: Black
Education: Eskisehir Anatolia University – Photography and Camerawork (Eskisehir Anadolu Universitesi Fotografcilik ve Kameramanlik Bolumu), Ekol Drama Art School (Ekol Drama Sanat Okulu), Anatolia University – Cookery (Anadolu Universitesinde Ascilik) (still continues)
Talent Agency: UK Iletisim Menajerlik
Spouse:
Biography: Sebahat Kumas was born in 12 May 1989 in Aydin. She spent her childhood in Izmir. After high school, she started to be interested in photography and studied photography at Eskisehir Anatolia University. After high school, she moved to Istanbul together with her sister to fulfill her dreams of acting. While she was taking acting lessons from Ekol Drama Art School, she also took part in Turkish series Those at the Back Place (Arka Siradakiler). After then, she was involved in popular Turkish drama Magnificent Century (Muhtesem Yuzyil) with her role as Esma Sultan for two seasons.
Sebahat Kumas Tv Series / Movies
2009 – Spring Leaves (Bahar Dallari)
2010 – Made in Turkish (Turk Mali)
2010 – From Adana (Adanali)
2010 – Taxi Station (Akasya Duragi)
2010 – Those at the Back Place (Arka Siradakiler)
2010 – Teacher Kemal (Ogretmen Kemal)
2011 – 2013 Magnificent Century (Muhtesem Yuzyil) (Esma Hatun)
2013 – 2016 Blackrose (Karagul) (as Melek Samverdi)
2016 – Deniz in My Heart (Kalbimdeki Deniz) (as Diyar Sarikaya)
2020 – The Phoenix (Zumruduanka) (as Saniye Arsoy)
Awards
Social
Instagram: https://www.instagram.com/sebahat_kumas/
Twitter:
Facebook:
E-Mail:
Trivia
Body Type:
Skills:
Star Sign: Taurus
Blood Type:
Hobbies:
Weight: 52 kg
Sebahat Kumas Gallery