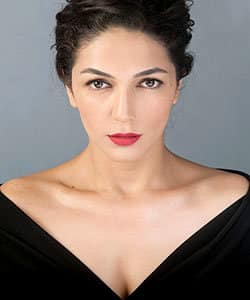 Profile
Name: Sebnem Hassanisoughi
Birthdate: December 7, 1985
Birthplace: Istanbul, Turkey
Height: 172 cm
Eye Color: Brown
Hair Color: Black
Education: Mimar Sinan University State Conservatory – Performing Arts Theatre (Mimar Sinan Guzel Sanatlar Universitesi Devlet Konservatuvari Sahne Sanatlari Bolumu Tiyatro Ana Sanat Dali); Kadir Has University Film and Drama Masters Programme (Kadir Has Universitesi Film ve Drama Yuksek Lisans Programi)
Spouse:
Biography: Sebnem Hassanisoughi's father comes from Iran and her mother is a Turk. Her father is a lawyer and her mother works at notary. Apart from acting, Sebnem Hassanisoughi also plays instruments such as guitar, drum, and harmonica.
Notable Works
2008 Lace (Dantel) (as Young Maya)
2010 Day of Sword (Kilic Gunu) (as Melek)
2011 Escape (Firar) (as Asude)
2011 Residual (Geriye Kalan) (as Sevda) (the movie)
2012-2013 Lost City (Kayip Sehir) (as Zeynep)
2013-2014 Tatar Ramazan (as Guzide)
2013 Returing to Home: Sarikamis  1915 (Eve Donus: Sarikamis 1915) (the movie)
2013 Swing (Salincak) (short movie)
2014 Call Me Sorrow Ever After (Bana Artik Hicran De) (as Lale)
2015-2016 For My Son (Poyraz Karayel) (as Begum)
2015 Nausea (Bulanti) (as Neriman) (the movie)
2016 Black Crow (Siyah Karga) (as Sara) (the movie)
2016 You Are My Country (Vatanim Sensin) (as Eftalya)
Awards
2012– 12.International Izmir Film Festival (12.Uluslararasi Izmir Film Festivali) – Best Actress (Left Behind) – En Iyi Kadin Oyuncu (Geriye Kalan)
2016– 48. Siyad Turkish Cinema Awards (48. Siyad Turk Sinemasi Odulleri) – Best Actress in Supporting Role (Nausea) – En Iyi Yardimci Kadin Oyuncu (Bulanti)
Social
Instagram: https://www.instagram.com/sebnemhassanisoughi/
Twitter: https://twitter.com/hassanisoughi
Facebook:
Gallery