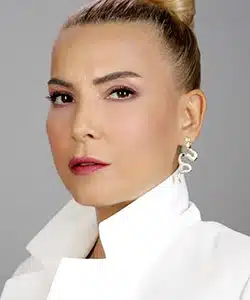 Profile
Name: Sebnem Donmez
Birthdate: May 17, 1974
Birthplace: Salzgitter, Germany
Height: 170 cm
Eye Color: Brown
Hair Color: Blonde
Education: Istanbul University State Conservatory (Istanbul Universitesi Devlet Konservatuvari)
Talent Agency:
Spouse: Ezel Akay (m. 2004 – 2007)
Biography: Sebnem Donmez was born in 17 May 1974 in Salzgitter, Germany. She became very popular while presenting a morning television program named Sabah Sekerleri in 1996. After then, she became a presenter for a television show named Gorevimiz Tehlike in 1997 and a television show Cumartesi Gecesi Atesi in 1998. After 2000, Sebnem Donmez started to take part in movies and tv series. Sebnem Donmez is also a Turkish representative of Live Earth.
Sebnem Donmez Tv Series / Movies
1991 – Uc Arkadas
1992 – Ahmet Hamdi Bey Ailesi
1993 – Uc Kisilik Dunya
1994 – Bir Demet Tiyatro
1994 – Zzzzt FM
1999 – Your Love Floats in Mountains (Askin Daglarda Gezer) (as Kejal / Gokcekiz)
2000 – Eyvah Kizim Buyudu (as Roza)
2002 – Asli and Kerem (Asli ile Kerem) (as Asli)
2002 – Runaway Mummy (Mumya Firarda) (as Leyla) (Movie)
2002 – Kolay Para (as Hulya) (Movie)
2003 – Olumsuz Ask (as Eylul)
2004 – Can I Call You Dad? (Size Baba Diyebilir Miyim?) (as Serap)
2004 – Where's Firuze? (Neredesin Firuze) (as Melek) (Movie)
2006 – Erkeksen Seyret (as Leyla)
2006 – Killing the Shadows (Hacivat Karagoz Neden Olduruldu?) (as Ayse Hatun) (Movie)
2006 – The Net 2.0 (Movie)
2007 – Esref Saati (as Truva Feraye)
2007 – That Woman (O Kadin) (Yesim's Mother) (Movie)
2008 – Nerede Kalmistik?
2009 – Governor (Vali) (as Ceyda Aydin) (Movie)
2010 – Little Secrets (Kucuk Sirlar) (as Ece Altinel)
2012 – Fake World (Yalan Dunya) (as Canan)
2012 – 2013 Kuzey Guney (as Melda Yalgin)
2013 – 2015 Tide (Medcezir) (as Sude Beylice)
2018 – The Yard (Avlu) (as Nihal Unal)
2018 – Cakallarla Dans 5 (as Mujgan) (Movie)
2020 – Love Storm (Zemheri) (as Mehves Demirkan)
2020 – 10 Thousand Steps (10 Bin Adim) (as Sule)
2021 – Last Summer (Son Yaz) (as Serap Gok)
Awards
Theatre Plays
2003 – 3.Turden Yakin Iliskiler
2004 – Tanrim Beni Bastan Yarat
2007 – Oyunun Oyunu
Tv Shows
1996 – 1998 Sabah Sekerleri
1997 – 1998 Gorevimiz Tehlike
1998 – Cumartesi Gecesi Atesi
1999 – Sans Melekleri
1999 – 2000 Ne Seker Sey
2001 – Ucur Beni
2001 – Kulaktan Kulaga
2007 – Herseyi Bilmek Gerekmiyor
2007 – Bak Kim Dans Ediyor
2008 – Laf Ebeleri
Social
Instagram: https://www.instagram.com/shebnemdonmez/
Twitter:
Facebook:
E-Mail:
Trivia
Body Type:
Skills:
Zodiac Sign: Taurus
Blood Type:
Hobbies:
Weight: