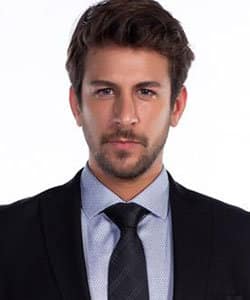 Profile
Name: Birand Tunca
Birthdate: October 05, 1990
Birthplace: Istanbul, Turkey
Height: 187 cm
Eye Color: Green
Hair Color: Light Brown
Education: Mujdat Gezen Art Center Theatre (Mujdat Gezen Sanat Merkezi Konservatuari)
Talent Agency: Icon Talent Management
Spouse:
Biography: Birand Tunca was born in 5 October 1990 in Istanbul. He became wellknown in 2014 with his role Bison in popular Turkish drama Resurrection Ertugrul (Dirilis Ertugrul). After than, He started to take part in various tv dramas such as My Father and His Family (Babam ve Ailesi); Hayat (Ask Laftan Anlamaz).
Birand Tunca Tv Series / Movies
2008 – Daydreaming (Kavak Yelleri)
2007 – Outside the Circle (Cemberin Disinda)
2008 – Eclipse (Ask Tutulmasi) (Movie)
2008 – Girls Team (Kiz Takimi)
2011 – Love and Punishment (Ask ve Ceza)
2014 – Resurrection Ertugrul (Dirilis: Ertugrul) (as Bisol)
2015 – 2016 Yunus Emre (Yunus Emre Askin Yolculugu) (as Dervis Cagri)
2016 – My Father and His Family (Babam ve Ailesi)
2016 – 2017 Hayat (Ask Laftan Anlamaz) (as Emre)
2018 – Victorious Mehmets (Mehmetcik Kut'ul Amare) (as Wilson)
2018 – 2019 Daydreamer (Erkenci Kus) (as Emre Divit)
Social
Instagram: https://www.instagram.com/birandtunca/
Twitter: https://twitter.com/birandtunca
Facebook: https://www.facebook.com/Birandtuncaresmi/
E-Mail:
Trivia
Skills:
Pantomime, Fencing, Tai-Chi, Diction / Singing, Traditional Turkish Theatre, Modern Dance, Improvisation, Dramaturgy
Hobbies:
Swimming, Fitness, Body building, Theatre, Jazz, Blues, Football, Basketball, Tennis, Motorcycle, Travel, Driving
Languages:
Turkish (Native), English (Intermediate)
Birand Tunca Gallery
Birand Tunca's photo shooting backstage
Birand Tunca's photo shooting backstage