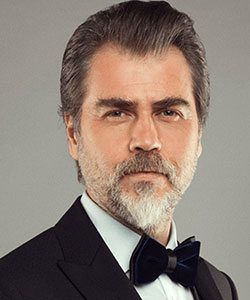 Profile
Name: Serhat Tutumluer
Birthdate: June 29, 1972
Birthplace: Eskisehir, Turkey
Height: 184 cm
Eye Color: Green
Hair Color: Black
Education: Hacettepe University Ankara State Conservatory
Talent Agency:
Spouse: Senan Kara (m. 2007-present)
Biography: Serhat Tutumluer was born in 29 June 1972 in Eskisehir. Took part in various theatre plays in Ankara State Theatre such as "Sevda Turkusu", "Budala", "Giordano Bruno", "Kucuk Nasreddin". Started to work in Izmit City Theatre in 1997 and took part in various theatre plays there such as "Hamlet", "Sokaga Cikma Yasagi", "Hakimiyet-i Milliye Asevi", "Nasreddin Hoca (kukla), "Kuvayi Milliye Destani" (kukla) and Uc Kurusluk Opera, Roberto Zucco, Lyistrata, Cimri, Don Juan, Ask Delisi, Bahar Noktasi, Oyunun Oyunu".
Serhat Tutumluer Tv Series / Movies
1997 – River Flowing in Opposite Direction (Tersine Akan Nehir)
2003 – Glede (Caylak) (as Asim)
2004 – Dark Spells (Buyu) (as Tarik) (Movie)
2004 – People of Hurricane (Kasirga Insanlari) (as Alphan)
2004 – Sahra (as Mithat Demircan)
2005 – Waiting for Heaven (Cenneti Beklerken) (as Nakkas Eflatun) (Movie)
2006 – Men Do not Cry (Erkekler Aglamaz) (as Murat)
2006 – Slave Hearts (Esir Kalpler) (as Demir Uyguner)
2006 – 2007 Bride Ezo (Ezo Gelin) (as Kadim Avsar)
2007 – Gap (Ara) (as Veli) (Movie)
2008 – Moonlight (Ayisigi) (as Kemal Aydost)
2008 – Devrim Cars (Devrim Arabalari) (as Ismet) (Movie)
2009 – Ash and Fire (Kul ve Ates) (as Omer Toprak)
2009 – Envy (Kiskanmak) (as Halit) (Movie)
2010 – Guneydogudan Oykuler Once Vatan (as Metin Orhun)
2011 – 2014 Desperate Housewives (Umutsuz Ev Kadinlari) (as Sinan Kalyoncu)
2012 – Inside (Yer Alti) (as Cevat) (Movie)
2014 – 2016 Filinta (Filinta: Bir Osmanli Polisiyesi) (as Boris Zaharyas)
2015 – Filinta: Dawn of Thousand Years (Filinta: Bin Yilin Safaginda) (as Boris Zaharyas)
2016 – Killjoy (Oyunbozan) (as Mahir Yamaner)
2017 – Wounded Love – You Are My Country (Vatanim Sensin) (as Kostas)
2018 – Bir Umut Yeter (as Kenan Akar)
2019 – Hercai (as Hazar Sadoglu)
Awards
2009 – 14th Sadri Alisik Awards (14.Sadri Alisik Odulleri) – Best Actor (Devrim Cars) – En Iyi Erkek Oyuncu (Devrim Arabalari)
2008 – 27th Istanbul Film Festival (27.Istanbul Film Festivali) – Best Actor (Gap) – En Iyi Erkek Oyuncu (Ara)
Social
Instagram:
Twitter:
Facebook:
E-Mail:
Trivia
Body Type:
Skills:
Star Sign: Cancer
Blood Type:
Hobbies:
Weight: 82 kg
Serhat Tutumluer Gallery