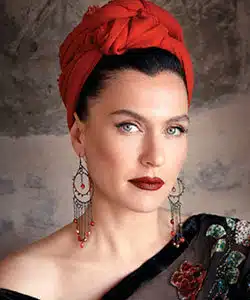 Profile
Name: Sevval Sam
Birthdate: November 11, 1973
Birthplace: Istanbul, Turkey
Height: 165 cm
Eye Color: Blue
Hair Color: Brown
Education: Marmara University Fine Arts School Graphic (Marmara Universitesi Guzel Sanatlar Fakultesi Grafik Bolumu); Istanbul Zincirlikuyu Vocational School (Istanbul Zincirlikuyu Insaat Teknik ve Yapi Meslek Lisesi)
Talent Agency:
Spouse: Metin Tekin (m. 1993 – 1999)
Biography: Sevval Sam is the daughter of Turkish singer Leman Sam. She got married to famous soccer player Metin Tekin in 1993 and got divorced in 1999. She started her acting career with popular Turkish drama Supe Dad (Supe Baba) and took part various TV project after then. Now, she is both interested in acting and music as her mother.
Sevval Sam Tv Series / Movies
1993 – Super Dad (Super Baba) (as Deniz)
1996 – Feride (as Feride)
1999 – Your Love Floats in Mountains (Askin Daglarda Gezer) (as Kajal)
2000 – Seagulls and Istanbul (Martilar ve Istanbul) (as Dr. Pinar) (Movie)
2002 – Gulbeyaz (as Gulbeyaz Dursunoglu)
2002 – Karaoglan
2002 – Under the Stars (Yildizlarin Altinda) (as Turkan)
2004 – Mr. Mujgan (Mujgan Bey) (as Mujgan / Mujdat)
2004 – You Have Worry if You Have a Child (Cocugun Var Derdin Var) (as Zeynep)
2006 – True City Stories (Yasanmis Sehir Hikayeleri) (as Ece Yildiz)
2007 – The Edge of Heaven (Yasamin Kiyisinda)
2008 – Derman (as Dr. Derman Ozersoy)
2009 – Black and White (Siyah Beyaz) (as Ayten) (Movie)
2010 – Ask Your Heart (Yuregine Sor) (as Masalci) (Movie)
2011 – Yalan Dunya
2012 – Weird Stories (Acayip Hikayeler)
2015 – Black Horse Memories (Movie)
2015 – Black Box (Kara Kutu) (as Adalet)
2016 – A Bodrum Fairytale (Bodrum Masali) (as Yildiz)
2018 – The Smell of Money (Paranin Kokusu) (Movie)
2018 – Forbidden Fruit (Yasak Elma) (as Ender Argun)
Music
2005 – Opposite Corner (Ters Kose) (Vocal)
2010 – Two Locks of Hair: The Lost Girls of Dersim (Iki Tutam Sac: Dersim'in Kayip Kizlari) (Music composition) (Movie)
2016 – A Bodrum Fairytale (Bodrum Masali) (Songs)
Social
Instagram: https://www.instagram.com/sevvalsam/
Twitter: https://twitter.com/sevvalsam
Facebook: https://www.facebook.com/sevvalsam
Youtube: https://www.youtube.com/user/sevvalsamcomtr
Google+ : https://plus.google.com/+SevvalsamTr
E-Mail: [email protected]
Sevval Sam Gallery
Sevval Sam – Hey Gidi Karadeniz – Ander Sevdaluk
Şevval Sam - Hey Gidi Karadeniz - Ander Sevdaluk
Izmir'in Kavaklari (Turkish – Greek)
Şevval Sam - İzmir'in Kavakları (Türkçe - Rumca)