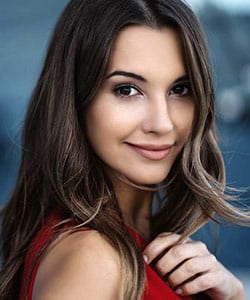 Profile
Name: Leyla Lydia Tugutlu
Birthdate: October 29, 1989
Birthplace: Berlin, Germany
Height: 1,75 m
Eye Color: Brown
Hair Color: Brown
Education: Istanbul University Germany Literature (Istanbul Universitesi Alman Dili ve Edebiyati)
Talent Agency: Be Management
Spouse: Ceyhun Ergin (m. 2022 – present)
Children: Evren Deniz
Biography: Leyla Lydia Tugutlu was born in 29 October 1989 in Berlin, Germany. Her father is Turkish while her mother is German. She started her education in Turkey. While going to primary school, Leyla Lydia Tugutlu also took piano and violin lessons for 5 years. When she started to study Germany literature at Istanbul University, she also worked as model and photomodel. In 2005, She became Best Promising Model at Best Model of Turkey and was awarded Princess Prize at Miss Tourism Queen International organized in China. In 2007, she was chosen as the promising model at Fashion TV 2007 Fashion Awards. In 2008, She became the Miss Turkey and represented her country at Miss World Competition organized in South Africa. She knows Turkish, English, and Germany.

Leyla Lydia Tugutlu Tv Series / Movies
Awards
2016 – 43. Pantene Golden Butterfly Awards (43. Pantene Altin Kelebek Odulleri) – Best Couple (Sweet Revenge) – En Iyi Dizi Cifti (Pelin & Sinan) (Tatli Intikam)
Commercials
2017 – Veet
2020 – Bosch
Social
Instagram: @leylalydia
Twitter:
Facebook:
E-Mail: Contact
Trivia
Body Type:
Language: Turkish, English and German
Zodiac Sign:
Blood Type:
Hobbies:
Weight: 56 kg
Leyla Lydia Tugutlu Gallery