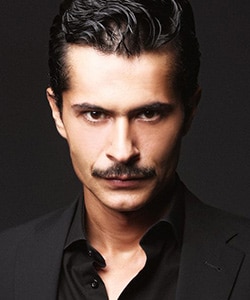 Profile
Name: Ismail Hacioglu
Birthdate: November 30, 1985
Birthplace: Istanbul, Turkey
Height: 186 cm
Eye Color: Brown
Hair Color: Black
Education: Mimar Sinan University State Conservatory – Theatre (drop-out) Mimar Sinan Universitesi Devlet Konservatuvari Tiyatro Bolumu – terk)
Talent Agency: Abdullah Bulut Management
Spouse: Vildan Atasever (m. 2010–2015), Duygu Kaya Kumarki (m. 2016–2020)
Children: Yemin Hacioglu
Biography: Ismail Hacioglu was born in 30 November 1985 in Istanbul. He was raised in Fatih neighborhood in Istanbul. He is the first child of his family and he has a sister. His father, Mehmet Hacioglu, was a soccer player of Fenerbahce. Despite his father's team, Ismail Hacioglu roots for Galatasaray, the biggest rival of Fenerbahce. While 12 years old, Ismail Hacioglu started to earn Money through dubbing. He got theatre training from Mujdat Gezen Art Center. He also took part in various theatre plays at Mujdat Gezen Art Center, private theatre founded by Aydogan Tamer and Erdal Duman, as well as at Istanbul Genclik Tiyatrosu (Istanbul Youth Theatre). Ismail Hacioglu also did vocalizing/dubbing fort television commercials while he was studying at Mujdat Gezen Art Center. Ismail Hacioglu became very popular with his role as Ozan in popular turkish series An Istanbul Fairytale (Bir Istanbul Masali). While playing at An Istanbul Fairytale tv series, he was also stuying at Mimar Sinan Conservatory. However, the chair (Zeliha Berksoy) of theatre department at Mimar Sinan Conservatory stated that "both school and working cannot happen at the same time". Thus, Ismail Hacioglu dropped-out school after first year.

Ismail Hacioglu Tv Series / Movies
2001 – In Nowhere Land (Hicbir yerde) (as Halim'in Kardesi) (Movie)
2001 – Wish Me Luck (Bana Sans Dile) (as Caglar) (Movie)
2002 – Couch (Kocum Benim) (as Ali)
2002 – The Encounter (Karsilasma) (as Osman) (Movie)
2003 – An Istanbul Fairytale (Bir Istanbul Masali) (as Ozan Kozan)
2004 – Istanbul Tales (Anlat Istanbul) (as Fiko) (Movie)
2005 – Cotton White (Beyaz Gelincik) (as Memed Ali Aslanbas)
2006 – Heist School (Sinav) (as Mert) (Movie)
2007 – Sinekli Bakkal (as Onur)
2007 – For Love and Honor (Kabadayi) (as Murat) (Movie)
2008 – The Governor (Vali) (as Sarp Ucar) (Movie)
2008 – Sarikamis Beyaz Huzun (as Delikanli) (Movie)
2008 – Hoscakal Guzin (as Serkan) (Movie)
2008 – Three Apples Fell From Sky (Gokten Uc Elma Dustu) (as Ali) (Movie)
2008 – 2009 Night Voices (Gece Sesleri) (as Yagiz Haksever)
2008 – Children of the Otherside (Baska Semtin Cocuklari) (as Veysel) (Movie)
2008 – Don't Forget Me (Beni Unutma)
2009 – Sonsuz Bir An (as Volkan) (Movie)
2010 – The Jackal (Cakal) (as Akin) (Movie)
2010 – Being Italian with Signora Enrica (Sinyora Enrica ile Italyan Olmak) (as Ekin) (Movie)
2011 – Suspicion (Suphe) (as Aziz Kutlu)
2011 – Turkan (as Mustafa) (Movie)
2011 – 2012 Escape (Firar) (as Civan)
2013 – 2014 Ottoman Slap (Osmanli Tokadi) (as Fatih Sultan Mehmet)
2013 – Meryem (as Murat) (Movie)
2015 – Cage (Kafes) (as Mehmet Sipahi) (Movie)
2015 – Zeyrek and Ceyrek (Zeyrek ile Ceyrek 'Bir Ramazan Temasasi') (as Meftun)
2015 – An Endless Love (Sonsuz Bir Ask) (as Volkan) (Movie)
2017 – Ayla: The Daughter of War (Ayla) (as Suleyman Dilbirligi) (Movie)
2017 – Kayitdisi
2018 – 2019 Victorious Mehmets (Mehmetcik Kutul Amare) (as Uskuplu)
2019 – Unconscious Love (Suursuz Ask) (as Yusuf) (Movie)
2019 – The Pocket Hercules Naim (Cep Herkulu: Naim Suleymanoglu) (as Mehmet Tunc) (Movie)
2019 – 2020 The Boy (Cocuk) (as Hasan Cetin)
2020 – Phoenix (Zumruduanka) (as Cihan)
2021 – Hukumsuz (as Selim Demirci)
2021 – Dumlupinar: Vatan Sag Olsun (Movie)
2021 – Defendant (Mahkum) (as Savas / Baris Yesari)
2022 – Kesisme: Iyi Ki Varsin Eren Bulbul (as Ferhat Gedik) (Movie)
Awards
2003 – 40th Antalya Film Festival (40. Antalya Film Senligi) – The Promising Actor (The Encounter) – Umut Veren Genc Oyuncu (Karsilasma)
2003 – 15th Ankara Film Festival (15. Ankara Film Festivali) – Promising New Actor (The Encounter) – Mehmet Emin Toprak Umut Veren Yeni Erkek Oyuncu (Karsilasma)
2003 – 25th Siyad Turkish Cinema Awards (25. Siyad Turk Sinemasi Odulleri) – The Promising Actor of the Year (The Encounter) – Yilin Umut Veren Sanatcisi (Karsilasma)
2004 – 11th CASOD Best Actor Awards (11. CASOD "En Iyi Oyuncu" Odulleri) – The Promising Actor (The Encounter) – Umut Veren Erkek Oyuncu (Karsilasma)
2009 – 20th Ankara Film Festivali (20. Ankara Film Festivali) – Best Actor in Supporting Role (Three Apples Fell From Sky) – En Iyi Yardimci Erkek Oyuncu (Gokten Uc Elma Dustu)
2011 – 16th Sadri Alisik Awards (16. Sadri Alisik Odulleri) – Best Actor of the Year (The Jackal) – Yilin En Iyi Erkek Oyuncusu (Cakal)
2018 – MGD Awards (MGD Odulleri) – Best Actor (Ayla: The Daughter of War) – En Iyi Erkek Oyuncu (Ayla)
Theatre Play
2007 – Dokuz Ay Son Gun : Sermiyan Midyat
Social
Instagram: Official Instagram Account
Twitter:
Facebook:
E-Mail:
Trivia
Body Type:
Skills:
Zodiac Sign: Sagittarius
Blood Type:
Hobbies:
Weight: 74 kg
Ismail Hacioglu Gallery
Suursuz Ask Movie Trailer (with English Subtitle)
Suursuz Ask Movie Trailer (with English Subtitle)