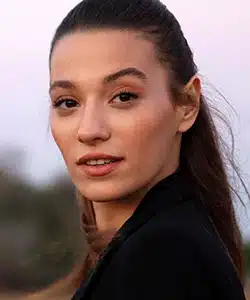 Profile
Name: Sumeyye Aydogan
Birthdate: April 2, 1999
Birthplace: Istanbul, Turkiye
Height: 1.68 m
Eye Color: Brown
Hair Color: Brown
Education: Istanbul Bilgi University (Istanbul Bilgi Universitesi)
Talent Agency: Talento Cast Agency
Spouse:
Biography: Sumeyye Aydogan was born in 2 April 1999 in Istanbul. Apart from television and cinema, she has also been interested in theatre. When she was in middle school and high school, she took part in theatre plays. She made her debut in 2021 with her role as Menekse in tv series Kahraman Babam.

Sumeyye Aydogan Tv Series / Movies
2020 – Aile Hukumeti (Movie)
2021 – Akif (Movie)
2021 – My Dad, My Hero (Kahraman Babam) (as Menekse)
2021 – Last Summer (Gecen Yaz) (as Oya) (Movie)
2021 – 2022 A Woman Scorned (Sadakatsiz) (as Ceren)
2022 – Hear Me (Duy Beni) (as Melisa Gercek)
2023 – Magarsus (as Damla)
2023 – Tacsiz Prenses (as Yagmur Elem)
Awards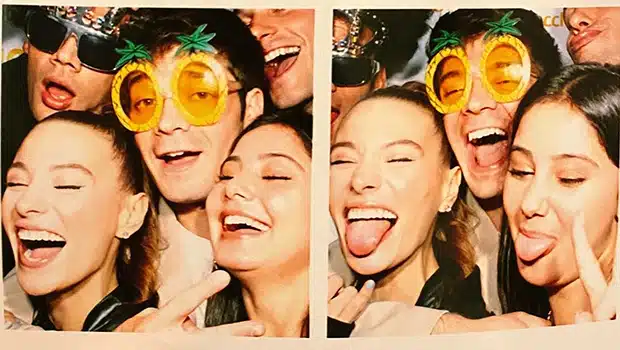 From the Interview with Sumeyye Aydogan
How did your path cross with acting?
The intersection of my path with acting took shape after I came to Istanbul, but I was always involved with theater during my middle and high school days. The road has brought me so far.
How did you feel when you first got in front of the camera?
I remember repeating myself all the time to forget that the camera was there. I was constantly smiling to suppress my excitement.
Who do you dream of getting in front of the camera?
If it is a single person, it is very difficult to answer this, but I would love to be in front of the camera with Engin Gunaydin in Turkey.
Can you tell me about yourself?
I am the only daughter in the family. I don't have any older brothers, but I wish I had many brothers. We are originally Albanians. My parents are retired police officers. I have visited 5 or 6 cities because of their profession. My friends and the houses we live in have changed a lot. For example, this house is the 14 th house where I am sitting now.
Have you had any impossible love?
No, it never happened.
How far do you go because you love?
If I'm really in love, I can change the environment I live in, my whole layout.
Are you in love right now?
Yes, I'm in love with an actor, but I don't want to name him.
What are the things you pay attention to on the first date?
Hands are important to me. Hygiene of their clothes.
What can you not tolerate in a person?
I can't stand people who don't listen, who talk about themselves all the time.
Is it something you can't stop doing once you start doing it?
Eating :)))
Social
Instagram: @sumeyyeaydogan_
Twitter:
Facebook:
E-Mail:
Trivia
Body Type:
Skills:
Zodiac Sign: Aries
Blood Type:
Hobbies:
Weight: 54 kg
Sumeyye Aydogan and Utku Coskun Answer Questions From Social Media

Sümeyye Aydoğan ve Utku Coşkun Sosyal Medyadan Gelen Soruları Yanıtlıyor!