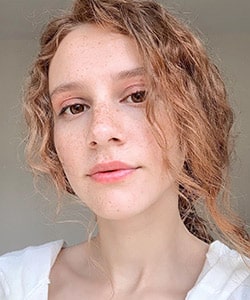 Profile
Name: Ahsen Eroglu
Birthdate: October 27, 1994
Birthplace: Corlu, Turkey
Height: 165 cm
Eye Color: Brown
Hair Color: Brown
Education: Ege University Sports Academy – Volleyball (Ege Universitesi Spor Bilimleri Fakultesi Voleybol Antrenorlugu)
Talent Agency: Persona Sanat
Spouse:
Biography: Ahsen Eroglu was born in 27 October 1994 in Corlu. She studied at Ege University Sports Academy and then took acting lessons from Sahne 3MOTA. She made her debut in 2015 with her role in Turkish series Modern Story of Cain and Abel (Bir Modern Habil Kabil Hikayesi).
Ahsen Eroglu Tv Series / Movies
2015 – Modern Story of Cain and Abel (Modern Habil Kabil) (as Zehra)
2016 – Magnificent Century Kosem (Muhtesem Yuzyil Kosem) (as Meleki Hatun)
2016 – 2017 Mother (Anne) (as Duru Gunes)
2017 – For my Daughters (Kizlarim Icin) (as Suna Yilmaz)
2018 – Bride of Istanbul (Istanbullu Gelin) (as Yaz Boran)
2019 – Kuzgun (as Kumru Cebeci)
2020 – 2021 The Agency (Menajerimi Ara) (as Dicle Ertem)
Awards
2021 – Flying Broom Women Films Festival (Ucan Supurge Kadin Filmleri Festivali) – Young Witch Award (Genc Cadi Odulu)
2021 – Cinema Port Awards (Sinema Port Odulleri) – Best New Actress (En Iyi Cikis Yapan Kadin Oyuncu)
Social
Instagram: https://www.instagram.com/ahseneroglu22/
Twitter:
Facebook:
E-Mail:
Trivia
Body Type:
Skills:
Zodiac Sign: Scorpio
Blood Type:
Hobbies:
Weight: 49 kg
Ahsen Eroglu Gallery
Another Point of View
Another Point of View: Ahsen Eroğlu