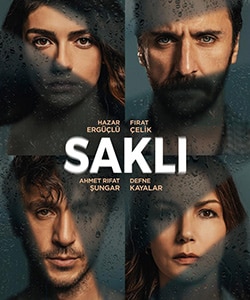 Details
Original Title: Sakli
English Title: The Affair
Also Known As: Hidden
Genre: Drama, Mystery, Romance
Episodes: 10 (each episode is 55-60 minutes)
Broadcast Network: Blu TV
Broadcast Period: 23 November 2021 – Present
Production Company: May Productions
Director: Deniz Akcay
Screen Writer: Deniz Akcay, Armagan Gulsah
Filming Locations: Istanbul, Turkey
Synopsis
Ozan (Firat Celik) is a writer and teacher who has a happy life together with his wife Beril (Defne Kayalar) and four children. He meets his wife at the university and gets married after the graduation. He dedicates his life to his family because he has grown up all alone after his mother passed away when he was at the high school.
Ozan enjoys a wealthy life with the help of his parents-in-laws. Even though he loves his wife, he does not like their dependence to his father-in-law. He sometimes gets bored of his children's responsibility as he cannot focus on his work.

Ozan and his family travel to a coastal town in order to spend their summer holiday. Even though Ozan is not happy to see his father-in-law, he accepts to go to his house in order to please his family. He, instead, wants to have some freedom and focus on his second book.
On their way to a coastal town, Ozan casually meets a young woman Asli (Hazar Erguclu).
Asli is a beautiful woman who is a local waitress trying to settle back after the death of his four-year old son. She is married to Volkan (Ahmet Rifat Sungar). Asli works as a waitress in a small restaurant while her husband works at his family horse farm.
Ozan and Asli start an affair out of pure coincidence and suffer from the emotional effects of an extramarital relationship. They both interpret the story of their extramarital relationship.
The Affair (Sakli) tv series story is about an extramarital relationship of Ozan and Asli. Will Ozan start to write his second book successfully? Will Asli manage to find peace in her life after the death of her son? How will the lives of Ozan and Asli change when they meet out of pure coincidence?
The Affair (Sakli) Tv Series Cast
Additional Cast Members
Janset as Efsun
Nazli Senem Unal as Muge
Tugay Mercan as Ilhan
Yekta Kopan as Burak
Serra Pirinc as Su
Berke Can Akkaya as Can
Fuat Fatih Odabasi
Zumra Betul Kaya
Volkan Yosunlu as Onder
Munir Can Cindoruk as Caner
Cemre Paksoy as Gokce
Turker Bulut as Hakan
External Links
Official Site: Broadcast Network
English Wikipedia:
Imdb:
You Might Also Like
Woman Scorned (Sadakatsiz)
The Affair (Sakli) Tv Series Trailer (with English Subtitle)
The Affair (Sakli) Turkish Drama Trailer – 2 (with English Subtitle)