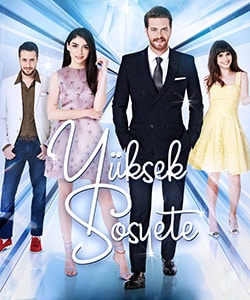 Details:
Original Title: Yuksek Sosyete
English Title: High Society
Also Known As: Shoqeri e larte, Gheshr Morrafah, Elita societății, Висше общество, Armaan
Genre: Romance, Drama
Episodes: 26
Broadcast Network: Star Tv
Broadcast Period: June 16, 2016 – December 24, 2016
Production Company: Bi Yapim
Director: Metin Balekoglu
Screen Writer: Yazi Odasi
Filming Locations: Istanbul, Turkey
Synopsis
Kerem (Engin Ozturk) is a young and hardworking man who comes from a poor family. His father works as a gardener and his mother works as a cook for a rich family. Kerem has grown up together with the grandson of that rich family, Mert (Mehmet Ozan Dolunay). He has become his best friend and always helped him whenever he needs something. However, he always knows that he is never equal to Mert due to his family background. He realizes that he is sometimes seen just as a helper rather than a friend. Therefore, he wants to leave everything behind and start a business by himself outside Istanbul. He wants to become a boss of his own business and does not want to take orders anymore.
One day, Mert's grandmother wants Mert to manage Olivia grocery store (organic food market) before he starts to become the CEO of the family business. In order to make his grandmother be proud of himself, Mert comes up with an offer: Kerem would manage Olivia for one month and make it a profitable store; in return, Mert would give Kerem enough money so that he could start his own business. These two young men make an agreement and take one another's place: Kerem introduces himself as Mert and becomes the manager of Olivia while Mert introduces himself as Kerem and works as an assistant director at Olivia.

On the other hand, Cansu (Hazar Erguclu) is the youngest daughter of a wealthy family from high society. Despite her wealth, she is not happy at all. She has not been loved truly by her family: her mother always says that she brings bad luck to her. One day, she accidentally meets a fortune teller who says that Cansu would find a true love if she reads the signs. Out of pure coincidence, Cansu finds herself at Olivia and starts to work there as a sales person. She hides her true identity as an heiress and acts as an ordinary girl who comes from a poor family. She just wants to find a man who will love her even though she is not wealthy. Soon later, she finds both her best friend Ece (Meric Aral) and her true love.
Olivia becomes a complicated place: Kerem thinks that Cansu is a poor girl and starts to have feelings for her. Cansu thinks that Kerem is a decent man even though he comes from a high society and starts to have feelings for him. Ece also falls in love with Kerem at first sight and considers Mert just as an assistant director. Lastly, Mert starts to develop pure love for Ece even though he knows her feelings towards Kerem.
In high society (yuksek sosyete) tv series story, you will explore a love story between a woman who tries to find a man who can love her although she is not wealthy and an indigent man who thinks that love is simply a tool that the ruling class uses to control the people under them. What will happen when everybody realizes the true identities of each other? Will Kerem fulfill his aim and start his own business? Will Cansu continue to love Kerem even though she learns that he is from a poor family? Will Mert find a girl who can love him even if he is not wealthy? Will Ece forgive the lies of her best friends?
High Society (Yuksek Sosyete) Tv Series Cast
Engin Ozturk as Kerem Ozkan (episodes 1-26)
Hazar Erguclu as Cansu Koran (episodes 1-26)
Meric Aral as Ece (episodes 1-26)
Mehmet Ozan Dolunay as Mert (episodes 1-26)
Zuhal Olcay as Sureyya Koran (episodes 1-26)
Hakki Ergok as Metin Koran (episodes 1-26)
Aliye Uzunatagan as Bedia (episodes 1-26)
Nihat Altinkaya as Levent Karatay (episodes 6-26)
Taner Barlas as Yilmaz Ozkan (episodes 1-26)
Hulya Gulsen Irmak as Aysen Ozkan (episodes 1-26)
Ceyda Tepeliler as Isil (episodes 1-26)
Gulsah Comoglu as Begum Koran (episodes 1-26)
Ozgun Coban as Can Koran (episodes 1-11)
Yasin Cam as Ercan (episodes 1-26)
Seren Deniz Yalcin as Sude Goksu (episodes 14-21)
External Links
Official Site: https://www.startv.com.tr/video/arsiv/dizi/yuksek-sosyete
English Wikipedia:
Imdb:
You Might Also Like
I Named Her Feriha (Adini Feriha Koydum)
Rental Love (Kiralik Ask)
My Lying Lover (Yalanci Yarim)
High Society (Yuksek Sosyete) Tv Series Trailer (with English Subtitle)
High Society (Yuksek Sosyete) Tv Series Trailer (Eng Sub)