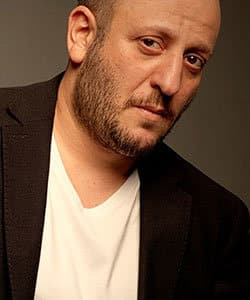 Profile
Name: Serkan Keskin
Birthdate: November 25, 1977
Birthplace: Izmit, Turkey
Height: 176 cm
Eye Color: Black
Education: Academy Istanbul Theatre School (1999-2002)
Biography: Serkan Keskin started his career by goint to the theatre course at Izmit City Theatre. Actor and director at Semaver Kumpanya. Took part in many theatre plays written by William Shakespeare, Moliere, Bertolt Brecht, Max Frisch and Abel Gonzales Melo and as well as Turkish people like Orhan Kemal, Turgut Özakman, Sait Faik, and Gungor Dilmen.
Serkan Keskin Tv Series / Movies
2004 – Time of Heart (Kalbin Zamani) (as Tonguc) (Movie)
2005 – 2006 Thief and Police (Hirsiz Polis) (as Bunyamin)
2005 – Bewildered (Saskin) (as Recai) (Movie)
2006 – Chinese Are Coming (Cinliler Geliyor) (as Asim) (Movie)
2007 – Autumn (Sonbahar) (as Mikail) (Movie)
2008 – Children of the Otherside (Baska Semtin Cocuklari) (as Engin) (Movie)
2008 – Pending (Derdest) (as Okan Taskin)
2008 – Son of The Sun (Gunesin Oglu) (as Serkan) (Movie)
2008 – Mert and Gert (Mert ile Gert) (as Bahri)
2009 – Can This Heart Forget You? (Bu Kalp Seni Unutur mu?) (as Idris)
2009 – Love, Where are You (Ay Ask Nerdesin) (as Ferhat)
2009 – Mist (Pus) (as Muhittin) (Movie)
2010 – Behzat C. (Behzat C. Bir Ankara Polisiyesi) (as Ismail)
2010 – My Fair Lady (Gonulcelen)
2010 – Self-Defensive Deception (Takiye: Allah'ın Yolunda) (as Kenan) (Movie)
2011 – September (Eylul) (as Namik) (Movie)
2011 – 2012 Leyla and Mecnun (Leyla ile Mecnun) (as Ismail)
2011 – Inside (Yeralti) (as Tarik) (Movie)
2012 – Stranger (Yabanci) (as Ali) (Movie)
2013 – I Missed Too (Ben de Ozledim) (as Serkan)
2013 – Thou Gild'st the Even (Sen Aydinlatirsin Geceyi) (as Dundar) (Movie)
2014 – Lemonade (Limonata) (as Selim) (Movie)
2014 – Consequences (Silsile) (as Cihan) (Movie)
2014 – Let's Sin (Itirazim Var) (as Selman Bulut) (Movie)
2015 – Five Siblings (Bes Kardes) (as Sait)
2015 – Bank of Broken Hearts (Kirik Kalpler Bankasi) (as Enis) (Movie)
2016 – Magnificent Century: Kosem (Muhtesem Yuzyil: Kosem) (as Nefi)
2015 – No More (Yok Artik) (as Faruk) (Movie)
2016 – Clair Obscur (Tereddut) (Movie)
2016 – The Swaying Watterflies (Ruzgarda Salinan Nilufer) (as Aybars) (Movie)
2017 – Cingoz Recai: Bir Efsanenin Donusu (as Sadri) (Movie)
2017 – The Last Schnitzel (Son Sinitzel) (as Molla Hassim) (Movie)
2017 – Words Fly Away (Soz Ucar) (Short Movie)
2017 – Innocent (Masum) (as Taner)
2017 – Sweety Sweety (Tatlim Tatlim) (Movie)
2018 – The Thrust (Guven) (as police commisser) (Movie)
2018 – Butterflies (Kelebekler)
2019 – The Wild Pear Tree (Ahlat Agaci) (as Suleyman) (Movie)
2019 – A Family Story (Bir Aile Hikayesi) (as Ufuk Damar)
2019 – Portrait of a Beauty (Guzelligin Portresi) (Movie)
2019 – Jet Society (Jet Sosyete) (as Serdar)
2019 – Chronology (Kronoloji) (as Ayhan) (Movie)
2020 – The Way We Are (Biz Boyleyiz) (Movie)
2020 – The Teacher (Ogretmen) (as Yilmaz)
2020 – Ya Istiklal Ya Olum
Awards
2012 – 32rd Ismail Dumbullu Prize
2014 – 33rd Istanbul Film Festival (33. Istanbul Film Festivali) – Best Actor (I Have an Objection) – En Iyi Erkek Oyuncu (Itirazim Var)
2014 – 21st International Golden Cocoon Film Festival (21. Uluslararasi Altin Koza Film Festivali) – Best Actor in Supporting Role (Sequence) – En Iyi Yardımcı Erkek Oyuncu (Silsile)
2014 – 51st International Golden Orange Film Festival (51. Uluslararasi Altin Portakal Film Festivali) – Best Actor (I Have an Objection) – En Iyi Erkek Oyuncu (Itirazim Var)
Social
Instagram: https://www.instagram.com/enistesigelmis/
Twitter: https://twitter.com/serkoperko
Facebook:
E-Mail:
Serkan Keskin Gallery
Demet Evgar & Serkan Keskin – Gitme Sana Muhtacim
Demet Evgar & Serkan Keskin - Gitme Sana Muhtacim