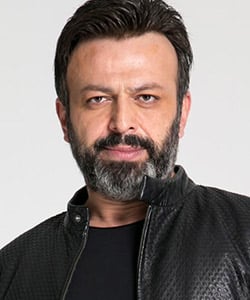 Profile
Name: Serhat Kilic
Birthdate: July 8, 1975
Birthplace: Ankara, Turkey
Height: 178 cm
Eye Color: Black
Hair Color: Black
Education: Bilkent University – Theatre (Bilkent Universitesi Muzik ve Sahne Sanatlari Fakultesi Tiyatro Bolumu) (1994-1998); Master's Degree at Hacettepe University State Conservatory (Hacettepe Universitesi Ankara Devlet Konservatuvari'nda Reji uzerine yuksek lisans) (2003-2005)
Talent Agency: Icon Talent Management
Spouse:
Biography: Serhat Kilic was awarded to study theatre at Bilkent University in 1994 with full scholarship. She graduated from the school in 1998. Serhat Kilic took part in various theatre plays. He worked at Ankara Art Theatre (Ankara Sanat Tiyatrosu). During 1999-2000, he worked at Diyarbakir State Theatre. During that period, he also gave theatre lessons at Diyarbakir City Theatre and directed a theatre play named Baris Adasi. Serhat Kilic did his master's degree at Hacettepe University and after then, he started to work as instructor at Erzurum Ataturk University Fine Arts School. In 2008, he quit his position at State Theatre and moved to Istanbul. He worked in various theatres such as Tiyatro Dot, BKM and Istanbul City Theatre after then. In 2014, Serhat Kilic founded his own school named Okul Serhat Kilic in order to give lessons about acting, writing, and dance.
Serhat Kilic Tv Series / Movies
2000 – Bizim Evin Halleri (as Karl Gurur)
2006 – 2008 Remember Darling (Hatirla Sevgili) (as Kamil Gunduz)
2008 – Dot (Nokta) (as Selim) (Movie)
2008 – 2009 My Soul Mate (Yol Arkadasim) (as Ilker Elmastas)
2009 – My Mother is an Angel (Benim Annem Bir Melek) (as Ibadullah)
2010 – Farewell (Veda) (as Salih Bozok) (Movie)
2010 – 2011 Ezel (as Selim Ugurlu)
2012 – 2016 80s (Seksenler) (as Ergun Plak)
2014 – Winter Sleep (Kis Uykusu) (as Imam Hamdi) (Movie)
2015 – Baskin Karabasan (Police) (Movie)
2015 – Robinson Crusoe and Cuma (Robinson and Cuma) (as Robinson) (Movie)
2017 – Circle (Cember) (as Adem)
2017 – 2019 Oath (Soz) (as Colak)
2019 – Circle: Above Fire (Cember: Ates Ustunde) (as Adem Yilmaz) (Movie)
2020 – The Teacher (Ogretmen) (as Taner Aslan)
Awards
14. Afife Theatre Awards (14. Afife Tiyatro Odulleri) – Nominee for Best Actor in Musical and Comedy Theatre (Yilin En Basarili Muzikal ve Komedi Erkek Oyuncusu dalinda adaylik)
2014 – 20. Sadri Alisik Theatre and Cinema Awards (20. Sadri Alisik Tiyatro ve Sinema Oyuncu Odulleri) – Jury Special Awards (Winter Sleep) – Secici Kurul Ozel Odulu (Kis Uykusu)
2014 – 47. Siyad Awards (47. Siyad Odulleri) – Nominee for Best Actor in Supporting Role (En iyi yardimci erkek oyuncu performansi dalinda adaylik)
Social
Instagram: https://www.instagram.com/serhatkilic.official/
Twitter:
Facebook:
E-Mail:
Trivia
Body Type:
Skills:
Zodiac Sign: Crab
Blood Type:
Hobbies:
Weight: 70 kg