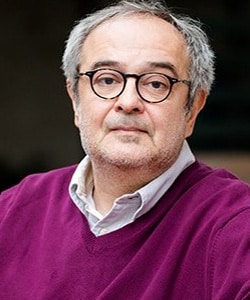 Profile
Name: Serif Erol
Birthdate: October 8, 1963
Birthplace: Karsiyaka / Izmir, Turkey
Height: 179 cm
Eye Color: Black
Hair Color: Grizzle
Education: Bogazici University Economics (Bogazici Universitesi Iktisadi ve Idari Bilimler Fakultesi – Ekonomi Bolumu)
Talent Agency:
Spouse:
Biography: Serif Erol was born in 8 October 1963 in Izmir. He started his university education in physics school but then, decided to study economics. During his undergraduate study, he took part in theatre club. Due to his interest in theatre, Serif Erol took theatre lessons and gave theatre lessons. He worked in various theatres such as Studyo Oyunculari and Krek Tiyatro. After 2000, Serif Erol started his writing/acting career in television projects.
Serif Erol Tv Series / Movies
1992 – I Love You Rosa (Seni Seviyorum Rosa) (Movie)
1996 – Somersault in a Coffin (Tabutta Rovasata) (as Zuhtu) (Movie)
2008 – Milk (Sut) (Movie)
2008 – Dark Cloud (Bahti Kara) (Movie)
2014 – Matter of Respect (Seref Meselesi) (as Hasan)
2015 – Kalbim Ege'de Kaldi (as Osman Gipgip)
2016 – We Are in Love (Hangimiz Sevmedik) (as Hulusi Gultekin)
2017 – Yol Ayrimi (as Besim) (Movie)
2017 – 2020 Woman (Kadin) (as Enver Sarikadi)
2018 – Is This Love? (Ask Bu Mu?) (Movie)
2018 – The Door (Kapi) (Movie)
2019 – Miracle Doctor (Mucize Doktor)
2020 – The Other Path (Hayalet: 3 Yasam) (as Fikret) (Movie)
2020 – The Teacher (Ogretmen) (as Metin)
2021 – The Agency (Menajerimi Ara) (as Serif)
2021 – Chrysalis (Camdaki Kiz) (as Adil Ipekoglu)
Awards
2017 – 21. Afife Theatre Awards (21. Afife Tiyatro Odulleri) – Best Actor (Vanya, Sonya, Masa and Spike) – Yilin En Basarili Erkek Oyuncusu (Vanya, Sonya, Masa ve Spike)
Theatre Plays
2002 – Yine Ne Oldu?
2004 – Oidipus Surgunde
2010 – 10 Adimda Unutmak – Anti Prome
2012 – Babamin Cesetleri
2014 – Her Yil Kuslar Geri Gelir
2016 – Soguyunca Acimaya Baslar
2016 – Vanya, Sonya, Masa and Spike
2017 – Marti
2018 – Dogville
2020 – Baba
Screenwriter
2005 – 2006 Thief and Police (Hirsiz Polis)
2007 – Knife Edge (Bicak Sirti)
2012 – Dark Red (Koyu Kirmizi)
Social
Instagram: https://www.instagram.com/serif_erol/
Twitter:
Facebook:
E-Mail:
Trivia
Body Type:
Skills:
Zodiac Sign: Libra
Blood Type:
Hobbies:
Weight: 75 kg