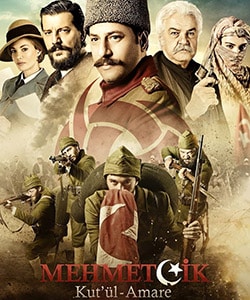 Details
Original Title: Mehmetcik Kut'ul Amare
English Title: Victorious Mehmets
Also Known As: Mehmetcik Kutlu Zafer
Genre: History, Period Drama
Episodes: 33 episodes (1-19 episodes in season 1: 18 January 2018 – 7 June 2018; 20-33 episodes in season 2: 23 October 2018-31 January 2019)
Broadcast Network: TRT 1
Broadcast Period: 18 January 2018 – 31 January 2019
Production Company: Bozdag Film
Director: Mustafa Sevki Dogan, Kamil Aydin
Screen Writer: Mehmet Bozdag
Filming Locations: Istanbul, Turkey
Synopsis
The story takes place during the period of 1914-1916. During this time, Ottoman Empire is fighting against Entente Countries including Britain and France.
The Ottoman Empire has been fighting at various fronts. One of the fronts that is very challenging is Kutul Amare front located in Iraq border. Suleyman Askeri (Kaan Tasaner) looks for the most talented applicants for the troop that will fight at Kutul Amare.
Mehmet (Ismail Ege Sasmaz) is an orphan guy who has been raised together with his friend Sait (Semih Erturk) by a soldier Husrev (Serdar Gokhan). Husrev is a successful soldier who has fought for his country at various wars. He has been training Mehmet and Sait in a hard way so that they could fight for Ottoman army.

Mehmet and Sait are like rival brothers. They are ambitious young guys who work so hard in order to join Ottoman troops and fight for the independence of their country. Their hard work serves the purpose eventually and they pass almost all exams to be elected for the special troop ruled by Suleyman Askeri.
However, when Sait cannot shoot the target, Mehmet helps his brother in order to make him pass the shooting exam. But, their cheating has been caught by the Suleyman Askeri.
Mehmet is elected for the special troop thanks to his success and ambition. However, his brother Sait is not chosen due to his shortcoming at shooting.
Meanwhile a British spy Cox (Ilker Aksum) comes to Istanbul. He has a mission to cause a chaos within the Ottoman Empire. In order to accomplish his mission, he would use minorities such as Greeks, Armenian, and Arabs who live under the Ottoman Empire. By supporting these minorities and giving them weapons, Cox aims to open new fronts within the country and weaken the Ottoman Empire's authority.
When Cox arrives at Istanbul, he meets another British spy Victoria (Eva Dedova) to execute his devil plan. While they are going to their secret place, they have been recognized by Ottoman soldiers. Cox and Victoria use their guns in order to escape.
Unfortunately, Mehmet finds himself in the middle of an armed fight in a local bazar. While supporting Ottoman soldiers, he gets shot by his foot and severely injured. Thanks to Mehmet's help, British spy Victoria is caught even though Cox manages to escape.
Mehmet is hospitalized due to his severe injury. He is about to lose his foot or to become disabled. Due to this reason, he loses out on enlisting. In place of Mehmet, his brother Sait is chosen for the special troop that will fight at Kutul Amare in Iraq border.
Mehmet cannot accept to stay at home while young guys of the country fight for the independence. He has always dreamed to join the Ottoman troop and die for the sake of his country. Thus, he cannot accept to do nothing and become useless.
Mehmet decides to join the troop that will go to Iraq. He leaves Istanbul behind and gets on a train which takes the troop to Iraq secretly. Mehmet starts a new journey in the broiling desert sands in order to sacrifice his life for the sake of his country. In his journey, he comes across a beautiful girl Zeynep (Ozgu Kaya) and falls in love with her.
Victorious Mehmets (Mehmetcik Kut'ul Amare) tv series story is about a couple of heroes who fight against the various enemies both within and outside of the country. Will Mehmet recover fully and manage to join the Ottoman army? Will Cox manage to execute his devil plan? Will Suleyman Askeri's troop manage to win the battle at Kutul Amare front located in Iraq border? Will Mehmet and Zeynep continue to love each other in the time of war and live in peace eventually?
Victorious Mehmets (Mehmetcik Kut'ul Amare) Tv Series Cast
Additional Cast Members
Emre Baser as Liuetenant Sefik (episodes 1-19)
Polat Bilgin as Liuetenant Cemil (episodes 1-6)
Ugur Karabulut as Niyazi (episodes 1-19)
Mirza Bahattin Dogan as Omer (episodes 1-19)
Kutay Sungar as Sefer (episodes 1-14)
Birand Tunca as Wilson (episodes 1-11)
Serkan Ercan as Enver Pasha (episodes 2-25)
Atakan Yarimdunya as Ahmet (episodes 1-33)
Burak Alp Yenilmez as Hasan (episodes 1-33)
Yigit Ucan as Samil (episodes 1-33)
Characters
Mehmet (Ismail Ege Sasmaz): Mehmet is a young guy in his 20s. He is athletic, ambitious, persistent, and patriotic. While he is five years old, his parents are killed in the Ottoman-Greek war. After then, he has been raised by a successful soldier Husrev. Mehmet considers Husrev as if his real father and Said as if his real brother. Mehmet does everything for the sake of his country and aims to join Ottoman army.
Zeynep (Ozgu Kaya): Zeynep is a beautiful young girl living in Iraq. She is interested in poetry and love epic stories. She knows epic love stories like Leyla and Mecnun and 1001 Nights. She is honest, gentle, and strong. She works as a healer. Zeynep and Mehmet fall in love with each other when Mehmet comes to Iraq and they work together in order to save Kutul Amare from British occupation.
Uskuplu Ali (Ismail Hacioglu): Uskuplu Ali is from Uskup. He is a clever and determined commander and has anything for the sake of his country. He is an important member of Teskilat-i Mahsusa. Uskuplu Ali believes that The Ottoman Empire would eventually recover its strength. In order to achieve this, he does his best and fights at Iraq front to save Kut city.
Fatma (Cansu Tosun): Fatma is the daughter of an important trader Serif Neccar in Kut city. She is idealist, clever and ambitious. She graduates from journalism school in Beirut. She fights against injustice no matter what.
Said (Semih Erturk): Said is a young guy in his 20s. He is the biological son of Husrev. He has been jealous of Mehmet since his childhood. He is ambitious, rebellious, and wants to be the center of interest.
Mevlut (Ismail Hakki Urun): Mevlut is in 30s. He is a soldier of Ottoman army and has been in Trablusgarp War. When Mehmet comes to Iraq, Mevlut becomes his friend. He is not married in order to become a good soldier and fight for the sake of his country. He tells stories about heroes and assists younger soldiers in the troop.
External Links
Official Site: https://www.trt1.com.tr/arsiv/mehmetcik-kutlu-zafer
English Wikipedia:
Imdb:
Social
Instagram: https://www.instagram.com/mehmetcikdizisi/
Twitter: https://twitter.com/mehmetcikdizisi
Facebook: https://www.facebook.com/mehmetcikdizisi
Youtube Channel: https://www.youtube.com/channel/UCszoS5tPcPI2s_Z9jxoD8AQ
You Might Also Like
Resurrection Ertugrul (Dirilis Ertugrul)
Filinta
Victorious Mehmets (Mehmetcik Kut'ul Amare) Turkish Drama Relationship Chart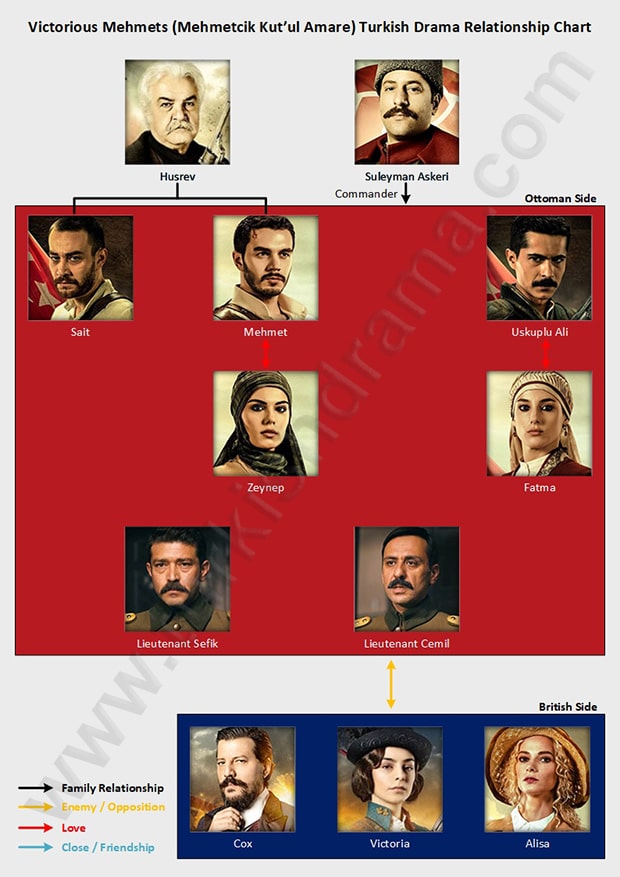 Victorious Mehmets (Mehmetcik Kut'ul Amare) Tv Series Trailer (with English Subtitle)
Victorious Mehmets (Mehmetcik Kut'ul Amare) Tv Series Trailer (with English Subtitle)
Victorious Mehmets – Bahcada Yesil Cinar – Ozgu Kaya
Victorious Mehmets - Bahcada Yesil Cinar - Ozgu Kaya