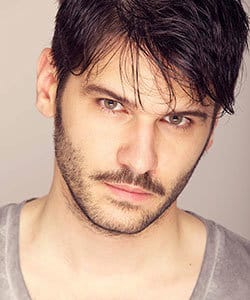 Profile
Name: Tolgahan Sayisman
Birthdate: December 27, 1981
Birthplace: Istanbul, Turkey
Height: 187 cm
Eye Color: Brown
Hair Color: Black
Education: Dogus University Business Administration (Dogus Universitesi Isletme Bolumu)
Talent Agency:
Spouse: Almeda Abazi (m. 2017-present)
Children: Efehan Sayisman
Biography: Tolgahan Sayisman became the second ranking of 2002 Best Model Of Turkey (Kivanc Tatlitug became Best Model of Turkey in that competition). Tolgahan Sayisman became 2004 Manhunt Of Turkey and 2005 Manhunt International (the most handsome man of the World) among participants from 75 countries. He worked with various brands in Turkey and Europe. He took acting lessons at Ekol Drama Sanat Evi.
Tolgahan Sayisman Tv Series / Movies
2006 – Captive Hearts (Esir Kalpler) (as Levent Ertekin)
2006 – Machos (Macolar) (as Tuncay)
2007 – Dicle (Dicle) (as Ferhat)
2007 – 2009 Farewell Rumelia (Elveda Rumeli) (as Namik/Mustafa)
2007 – Hepsi (as Ali Kos)
2008 – Eclipse of the Love (Ask Tutulmasi) (as Ugur) (Movie)
2009 – Love Never Says I Am Coming (Ask Geliyorum Demez) (as Ali) (Movie)
2010 – 2014 The Tulip Age (Lale Devri) (as Cinar Ilgaz)
2010 – 2011 Love in the Sky (Yer Gok Ask) (as guest actor Cinar Ilgaz)
2013 – Exile (Surgun) (as Sedat) (Movie)
2014 – Oppressed Kuzey (Mazlum Kuzey) (Movie)
2015 – 2016 I Never Give Up (Asla Vazgecmem) (as Yigit Kozan)
2015 – Game of Byzantine (Bizans Oyunlari: Geym of Bizans) (as Prens Adonis) (Movie)
2017 – Ex-Lover (Eski Sevgili) (as Baris) (Movie)
2017 – Black Pearl (Siyah Inci) (as Kenan Celebi)
2018 – Bir Umut Yeter (as Yilmaz Karabey)
2019 – 2020 Sampiyon (as Firat Bolukbasi)
Social
Instagram: https://www.instagram.com/tsayisman/
Twitter: https://twitter.com/tsayisman
Facebook: https://www.facebook.com/tsayisman
E-Mail: [email protected]
Trivia
Body Type:
Skills:
Star Sign: Sagittarius
Blood Type:
Hobbies:
Weight: 80 kg
Tolgahan Sayisman Gallery