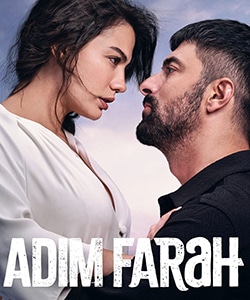 Details
Original Title: Adim Farah
English Title: My Name is Farah
Also Known As:
Genre: Romance, Drama
Episodes: 11+ (each episode is 140-150 minutes)
Broadcast Network: Fox
Broadcast Period: March 1, 2023 – present
Production Company: O3 Medya
Director: Recai Karagoz
Screen Writer: Deniz Dargi, Cem Gorgec, Cenk Bogatur
Filming Locations: Istanbul, Turkiye
Synopsis
Farah (Demet Ozdemir) is a 28-year-old Iranian woman who has been living together with her 6-year-old son. She has been living in Istanbul illegally for 6 years. While fleeing from Iran to France, she stops in Istanbul after finding out that she was pregnant.
Farah lives in Istanbul as a fugitive. Even though she has a medical school degree from Iranian University, she cannot perform her occupation. She works as a cleaning lady and does anything to support his son.

Farah's son Kerimsah has a rare disease from birth. He suffers from an immunization problem and needs to live in a sterile environment. Farah does her best to take care of her son properly and ensure that her son would regain his health and have a normal life just like other children.
Farah works so hard in order to give proper treatment for her son and also save money as soon as possible to go to France.
Farah's difficult life turns upside down overnight. She goes to a place where she will work and starts cleaning as usual. However, she witnesses a murder there. Even though she tries to hide from the mafia guys, she has been recognized.
Farah tries to persuade the mafia guys not to tell anyone about this murder. A mafia guy Tahir (Engin Akyurek) lets Farah clean the crime scene without a trace at the cost of her life. However, he plans to kill her afterward.
Tahir is a fearless and cruel mafia guy. He does his job without any fear and tries to protect his underground business. The guy who has committed murder is the son of a mafia leader Ali Galip Akinci (Mustafa Avkiran). Thus, Tahir aims to protect him by killing the eyewitness.
Farah manages to escape from the hands of Tahir. However, Tahir finds her house easily the next day. For the first time in his life, Tahir finds himself in a challenging situation where he has to decide the fate of an innocent woman and a child. He leaves Farah alone on the condition that she will keep silent and forget this murder case.
The story becomes more complicated when it is revealed that the person who has been murdered by Kaan Akinci (Oktay Cubuk) is a disguised policeman. A successful police chief commissioner Mehmet (Firat Tanis) becomes obsessed with finding the culprits of this murder case.
Farah finds herself in a very difficult situation. She either will stay silent and protect her life or she will speak to the police in order to get justice.
My Name is Farah (Adim Farah) tv series story is about a young migrant woman Farah who lives together with her 6-year-old son who suffers from an immunization disease. Will Farah manage to escape from Tahir? Will Mehmet solves this murder case and find the true culprit? Will Farah manage to find treatment for his son? Will Farah's son eventually play outside just like other normal children?
My Name is Farah (Adim Farah) Tv Series Cast
Additional Cast Members
Mert Dogan as Bekir
Kemal Burak Alper as Ilyas
Rastin Paknahad as Kerimsah
Alper Turedi as Hamza
Characters:
Farah is 28 years old. She was born and raised in Iran and had to flee from Iran to Istanbul after a tragedy. She has a tough life and she has to work so hard to survive. Even though Farah studied Medicine at Ahvaz Jundishapur University and finished her school with an honor degree, she did not have the opportunity to do her own profession. After coming to Istanbul, Farah starts working as a cleaning lady instead of working as a surgeon. She has been living in Istanbul for 6 years without any valid visa documents. Farah dedicates her life to her son Kerimsah who has been suffering from an immunization disease. After giving birth to her son, Farah lives for her son and she becomes both a mother and doctor for her son. For the treatment of her son, Farah can do anything.
Tahir has suffered from lots of difficulties in life after the death of his parents when he was at a very young age. Although he lived with his uncle for a while, he caused the death of his uncle who tortured him while raising him. Later, he started to work for Ali Galip and has become his right-hand man. Tahir considers Ali Galip as his own family and does whatever Ali Galip asks of him. Due to difficulties and hardships in his life, Tahir becomes very strong, cruel, and fearless.
Mehmet was adopted by Orhan Kosaner at a very young age after his parents passed away. He becomes a successful chief commissioner just like his stepfather Orhan. He is hardworking, disagreeable, and belligerent. He is very determined and he does not give up anything that he is obsessed with. He is angry at his biological parents who left him alone and he hates his true oriental identity.
Orhan Kosaner (Ali Surmeli):
Orhan is the father of Mehmet and Gonul and the husband of Perihan. He is 61 years old. He is a retired police chief. Even though he is retired, he is still respected by the Police Department. He is strong, charismatic, and trustworthy.
Ali Galip is 60 years old. He is the wife of Vera and the father of Kaan. He is a complete crime machine with the appearance of a business person. He is the leader of the underground gang. His nickname is "AGA". Ali Galip is a very tough main. He loves and spoils his son very much.
Vera Akinci (Senan Kara):
Vera is 57 years old. Her real name is Vera Petrovski. She is the wife of Ali Galip Akıncı and the mother of Kaan. She is a charming woman. Unlike her husband, she is a good and conscientious person. Vera is aware of Ali Galip's dark side and she never loves him the way Ali Galip loves her. She wants to keep her son away from her husband's dirty world.
Perihan Kosaner (Lale Basar):
Perihan is the mother of Gonul and the wife of Orhan. She is the owner of the hair salon located in the neighborhood, which is the gathering point for women. She is aware of everything that goes on in the neighborhood. She dislikes Farah and immigrants in general. She does not know anything about Farah's background and she believes that Farah will get them into trouble and bring trouble to their neighborhood. That's why she always has her eye on Farah.
Kaan is the first and only child of Ali Galip and Vera. He is in his 20s. He is very spoiled and womanizer in Istanbul nightlife. There are fake friends who want to take advantage of his power and wealth. He thinks that he must be respected all the time due to the fact that he is the son of Ali Galip. He wants to get his father's attention and become visible to his father. He is a lonely and weak young guy.
Gonul is a 24-year-old girl. She is the daughter of Perihan and Orhan. She is very beautiful and a joyful young girl. She loves her step brother Mehmet. She lives in the same apartment as Farah and does her best to support Farah. Even though Gonul has been grown up in the shadow of her mother's dominant and harsh character, she manages to keep her kindness and mercy inside. She works at the private hospital in the patient relations department. Since she likes to help people, she is in the place where she can be most useful in her own way.
External Links
Official Site: Broadcast Network
English Wikipedia:
Imdb:
Social
Instagram: @adimfarahdizi
Twitter: @adimfarahdizi
Facebook: @adimfarahdizi
Youtube Channel: @DiziAdimFarah
You Might Also Like
Black White Love (Siyah Beyaz Ask)
My Name is Farah (Adim Farah) Turkish Series Trailer (with English Subtitle)
Adım Farah Yakında FOX'ta!