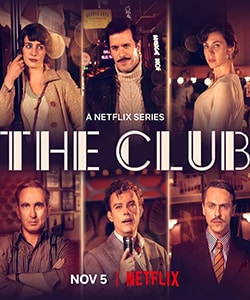 Details
Original Title: Kulup
English Title: The Club
Also Known As:
Genre: Drama, Romance
Episodes: 10 episodes (each episode is 50-60 minutes)
Broadcast Network: Netflix
Broadcast Period: 5 November 2021 – 6 January 2022
Production Company: Netflix
Director: Zeynep Gunay Tan, Seren Yuce
Screen Writer: Aysin Akbulut, Rana Denizer, Necati Sahin
Filming Locations: Istanbul – Beyoglu neighborhood
Synopsis
The story takes place in 1950s in Turkey.
Matilda (Gokce Bahadir) is a middle aged woman who has stayed in prison for 17 years. When she gets out of prison, she wants to have a quiet life far away from Istanbul. Her daughter Rasel (Asude Kalebek) is now 17 years old and she does not know anything about her parents.
Matilda does not want to enter into her daughter's life and even does not want to see her daughter's recent photo. She wants to leave everything behind, forget her past and start a new journey. However, out of pure coincidence, she bumps into her daughter and has nothing to do but to reveal her identity.

Matilda's daughter Rasel is arrested by the police when she secretly steps into a nightclub named "The Club". Rasel wants to get her close friend's identity card that is kept at the nightclub but eventually, she is accused by being a thief.
Matilda finds herself at the police station waiting her daughter. She wants to cooperate with the manager of The Club in order to release her daughter. However, it turns out that the manager of The Club is Celebi (Firat Tanis) who used to work at Matilda's house as a servant.
Even though Celebi has agreed on reconciliation, he changes his mind when he sees Matilda. He accepts not to make a complaint about Rasel on the condition that Matilda would work under him at The Club for a while.
Matilda has nothing to do but to work at The Club in order to save her daughter. She has grown up in a wealthy family without doing any house chore. But, she accepts to work as a cleaning lady at The Club under difficult conditions for the sake of her daughter.
The Club is one of the most prominent nightclubs of Istanbul in 1950s. The boss Orhan (Metin Akdulger) is an open-minded person who does not refrain from making difficult decisions. He accepts to work together with an artist Selim (Salih Bademci) after foreseeing his potential.
Selim wants to make a splendid stage show while he is singing a song. He wants to offer a different experience for the audience. Even though he is so ambitious and he knows that he would change the sense of entertainment in Istanbul, he could not find any support from the nightclubs. However, he never gives up, creates his own opportunity, and impresses Orhan who is the owner of The Club.
After Matilda starts to work at The Cub, she becomes a good friend of Selim and does her best to stand against the manager Celebi and sometimes against the boss Orhan. At the same time, she wants to re-strengthen her ties with her daughter. She believes that a Jewish girl and a Muslim guy cannot get married and cannot become happy. Because of that reason, she does not approve her daughter Rasel's relationship with Ismet (Baris Arduc).
Ismet is a handsome guy who works as a taxi driver. He is womanizer, rebellious, and troublemaker who has many love affairs. He has grown up in a conservative community with Muslim values and he does not know that Rasel is a Jewish girl.
The Club (Kulup) tv series story is about an ex-convict Matilda who works in one of the most popular nightclubs of Istanbul. Will Matilda manage to establish a good relationship with her daughter Rasel? Will Rasel get married to her lover Ismet even though she is jewish while he is muslim? Will Matilda understand true intention of Celebi?
The Club (Kulup) Tv Series Cast
Gokce Bahadir as Matilda Aseo
Salih Bademci as Selim Songur
Firat Tanis as Celebi
Metin Akdulger as Orhan Sahin (Niko)
Baris Arduc as Fistik Ismet Denizer
Asude Kalebek as Rasel Aseo
Suzan Kardes as Mevhibe Sahin
Hulya Duyar as Ismet's mother
Merve Seyma Zengin as Tasula
Ilker Kilic as Mordo
Sezer Aricay as Haci
Murat Garibagaoglu as David
Istar Gokseven as Ali Seker
Valeria Lakhina as Diana
Doganay Unal as Bahtiyar
Characters:
She kills her lover when she understands that he has betrayed her family. She stays in prison for 17 years due to committing a murder. After she gets out of prison, she starts to work at a nightclub named "The Club" as a cleaning lady. Matilda is a strong woman who can do anything for her family.
She is Matilda's daughter who has grown up in an orphanage. She does not know her mother and does not know the fact that her mother killed her father. She is stubborn and fearless. She disguises her identity and does not mention that she is jewish due to the fact that her lover Ismet is a Muslim guy.
He is a popular taxi driver who is Muslim. He is womanizer, troublemaker and rebellious. Even though he loves Rasel, he is not a perfect guy who can dedicate his life for his lover. He does not get along well with his father.
He is the star artist of "The Club". He is different from his counterparts through his stage show. He is so ambitious that he changes the sense of entertainment in Istanbul. Due to his way of life, he does not talk with his parents even though he wants to get their approval and recognition.
He is the boss of "The Club". He is originally Greek and Christian. However, he disguises his identity and behaves as if he is Turkish and Muslim.
He is the manager of "The Club". He used to work at Matilda's house as a servant. Even though he has been in love with Matilda since his childhood, he cannot reveal his true feelings.
External Links
Official Site: Broadcast Network
English Wikipedia:
Imdb:
You Might Also Like
Yesilcam
The Rose and Thorn (Cemberimde Gul Oya)
The Club (Kulup) Tv Series Trailer (with English Subtitle)
The Club (Kulup) Tv Series Trailer (Eng Sub)
The Club (Kulup) Netflix Turkish Series Trailer 2 (with English Subtitle)
The Club (Kulup) Netflix Turkish Series Trailer 2 (Eng Sub)