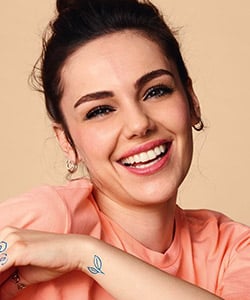 Profile
Name: Yagmur Tanrisevsin
Birthdate: August 24, 1990
Birthplace: Mersin, Turkey
Height: 170 cm
Eye Color: Brown
Hair Color: Brown
Education: Marmara University Fine Arts School, The Branch of Ceramic and Glass (Marmara Universitesi Guzel Sanatlar Fakultesi Seramik-Cam Bolumu)
Talent Agency: Gaye Sokmen Cast Agency
Spouse:
Biography: Yagmur Tanrisevsin was born in 24 August 1990 in Mersin. She grew up in Mersin and went to primary, secondary and high school in Mersin. In order to go to the university, she came to Istanbul and studied at Marmara University. She continues her acting career together with her career at ceramic and glass. Yagmur Tanrisevsin took acting lessons from Meltem Cumbul, Betul Alganatay, Umit Cirak, Craft Oyunculuk Atolyesi, Bahar Kerimoglu and Merve Taskan. Her hobbies are boxing, tennis, sking, basketball, and painting.
Yagmur Tanrisevsin Tv Series / Movies
2012 – Dirty Seven (Pis Yedili) (as Muge)
2012 – I Named Her Feriha (Adini Feriha Koydum) (as Ece)
2013 – The Tragedy (as Jennifer) (Movie)
2013 – 2014 Waiting for the Sun (Gunesi Beklerken) (as Melis Guzel)
2013 – Love Makes You Cry (Ask Aglatir) (as Banu) (Movie)
2014 – 2015 Fugitive (Kacak) (as Tulay Mengen)
2015 – Large Family (Genis Aile: Yapistir) (as Cagla) (Movie)
2015 – Bana Baba Dedi (as Didem)
2015 – 2016 Queen of May (Mayis Kralicesi) (as Nehir)
2016 – Yok Artik 2 (as Damla) (Movie)
2017 – Love vs Lies (Iki Yalanci) (as Duygu)
2020 – Father's Money (Baba Parasi) (as Tulin) (Movie)
2021 – The Agency (Menajerimi Ara) (as Yagmur)
2021 – Heart Wound (Kalp Yarasi) (as Ayse Yilmaz)
Awards
2014 – 5th Ayakli Gazette Television Awards (5. Ayakli Gazete Televizyon Odulleri) – Best Actress in Supporting Role at Youth Drama (Waiting for the Sun) – En Iyi Genclik Dizisi Yardimci Kadin Oyuncu (Gunesi Beklerken)
Social
Instagram: https://www.instagram.com/yagmurtanrisevsin/
Twitter: https://twitter.com/tanrisevsin
Facebook: https://www.facebook.com/YagmurTanrisevsin
E-Mail:
Trivia
Body Type:
Skills: Tango, Riding Motorcycle, Drawing, Ceramics, Box
Languages: English
Zodiac Sign: Virgo
Blood Type:
Hobbies:
Weight:
Yagmur Tanrisevsin Gallery
Shooting Backstage
Make-up
Yağmur Tanrısevsin Makyajı | Hamiyet Akpınar