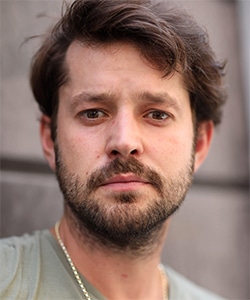 Profile
Name: Ahmet Kayakesen
Birthdate: September 27, 1988
Birthplace: Istanbul, Turkey
Height: 1,83 m
Eye Color: Brown
Hair Color: Brown
Education: Trakya University – International Foreign Trade (Trakya Universitesi Uluslararasi Dis Ticaret Bolumu)
Talent Agency: Be Management
Spouse:
Biography: Ahmet Kayakesen was born on 27 September 27 1988 in Istanbul. He graduated from Trakya University, Department of International Foreign Trade. In 2014, he started his career with the film "Crazy Dersene 3" and later appeared in the series My Husband's Family (Kocamin Ailesi), Hanim Koylu, Kertenkele, Warrior (Savasci), Two Liars (Iki Yalanci), Forbidden Apple (Yasak Elma), and Hercai. Ahmet Kayakesen participated in activities related to theater plays at his school from a very young age and professionally adopted acting over time. He chose acting as the profession.

Ahmet Kayakesen Tv Series / Movies
2014 – Cool School 3 (Cilgin Dersane 3) (as Ercu) (Movie)
2015 – My Husband's Family (Kocamin Ailesi) (as Fatih Saracli)
2016 – Ladyville (Hanim Koylu) (as Burali Ismail)
2016 – Kertenkele: Yeniden Dogus (as Murat Demirkan)
2016 – Love Likes Lie (Ask Yalani Sever)
2017 – Seni Gidi Seni (as Bulent) (Movie)
2017 – Almond Sugar 3 (Badem Sekeri 3) (as Fikret) (Movie)
2017 – Almond Sugar 5 (Badem Sekeri 5) (as Fikret) (Movie)
2017 – Warrior (Savasci) (as Burak Yigit)
2017 – Love vs Lies (Iki Yalanci) (as Alp)
2018 – Koca Bulma Sanati (as Tibet) (Movie)
2018 – 2019 Forbidden Fruit (Yasak Elma) (as Hakan Kurtulus)
2020 – 2021 Hercai (as Harun Bakircioglu)
2021 – Aynen Aynen (as Timur)
2022 – Mukemmel Eslesme (as Kerem)
2022 – Bergen (as Abdullah) (Movie)
2022 – Nasil Fenomen Oldum (as Yigit)
2022 – Sonsuza Dek Nedime (as Sinan)
2022 – Mukemmel Eslesme (as Kerem)
2023 – EGO (No Trust in the Man) (as Tuncay Koraslan)
Awards
Social
Instagram: @ahmetkayakesen
Twitter: @ahmetkayakesen
Facebook:
E-Mail:
Trivia
Body Type:
Skills:
Zodiac Sign: Libra
Blood Type:
Hobbies:
Weight: