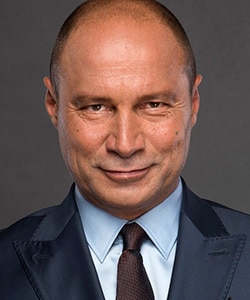 Profile
Name: Kursat Alniacik
Birthdate: December 7, 1962
Birthplace: Istanbul, Turkey
Height: 178 cm
Eye Color: Brown
Hair Color: Black
Education: Mimar Sinan University – Theatre (Mimar Sinan Universitesi Tiyatro Bolumu)
Talent Agency: Gokce Altan Ajans
Spouse: Banu Alniacik, Gercek Saglar (m. 2013-present)
Biography: Kursat Alniacik was born in 7 December 1962 in Istanbul. He is the son of theatre professor Raik Alniacik. In 1981, he started to study at Istanbul State Conservatory, theatre concentration. He graduated in 1985 and went to the UK with a scholarship given by UK government. When he went to the UK and studied modern dance at London Content Dance School for one year. Kursat Alniacik returned to Turkey in 1986 and started to work as an intern at Bursa State Theatre. While tooking part in theatre plays, he also continued his interest in modern dance as a hobby. For 9 years, he gave dance lessons at Eyuboglu Egitim Kurumlari. Kursat Alniacik became very popular with his role as Savas in popular Turkish series Crazy Heart (Deli Yurek). After then, he became very well known in the television sector.
Kursat Alniacik Tv Series / Movies
1970 – Hope (Umut) (Movie)
1989 – Silent Storm (Sessiz Firtina)
1991 – Yildizlar Gece Buyur (as Aykut)
1991 – Ates Ustunde Yurumek (Movie)
1993 – Super Dad (Super Baba) (as Haluk Sahsuvaroglu)
1993 – Hoscakal Umut (as Oruc) (Movie)
1993 – Mavi Surgun (Movie)
1995 – Sahte Dunyalar
1996 – Kaldirim Cicegi
1998 – Hot Hours (Sicak Saatler) (as Ceyhun Emre)
1998 – 2002 Crazy Heart (Deli Yurek) (as Savas Dogan)
2002 – Berivan
2005 – Aynalar (as Dursun)
2006 – Two Families (Iki Aile) (as Atilla Turel)
2006 – Adak (as Cemal)
2006 – Road to Perdition (Azap Yolu)
2007 – 2008 North Wind (Kuzey Ruzgari) (as Demir Hakman)
2008 – 2009 Night and Daytime (Gece Gunduz) (as Nihat Gencer)
2008 – Three Apples Fell From the Sky (Gokten Uc Elma Dustu) (Movie)
2009 – Sakarya Firat (as Bakir)
2013 – Lost (Kayip) (as Murat)
2014 – 2015 Tide (Medcezir) (as Turunc Nadir)
2015 – 2016 Endless Love (Kara Sevda) (as Onder Sezin)
2016 – 2018 Resurrection Ertugrul (Dirilis Ertugrul) (as Ural Bey)
2018 – Nameless Squad (Isimsizler) (as Kudret Yildirim Sabbah)
2019 – Turn of Duty 24/7 (Nobet) (as Ziya Cevran)
2019 – Bullet (Kursun) (as Nuri Kargi)
2021 – 50m2 (as Servet)
Awards
Theatre Plays
1981 – Kosem Sultan
1982 – Kirmizi Pabuclar
1988 – Bebek Uykusu
1988 – Damdaki Kemanci
1989 – Ballar Balini Buldum
1990 – Danton'un Olumu
1993 – Don Juan
1996 – Kadi
1997 – Ayisiginda Samata
1998 – Atcali Kel Mehmet
1999 – Kanli Dugun
2001 – Benerci Kendini Nicin Oldurdu
2005 – Haputta Bir Amerikali
2010 – Kendi Kendine Konusmaktir Ask
Social
Instagram: https://www.instagram.com/kursatalniacik/
Twitter:
Facebook:
E-Mail:
Trivia
Body Type:
Skills:
Zodiac Sign: Sagittarius
Blood Type:
Hobbies:
Weight: 75 kg
Ertugrul vs Ural – Resurrection Ertugrul
Ertugrul vs Ural - Resurrection Ertugrul (English Subtitle)