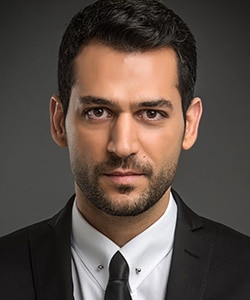 Profile
Name: Murat Yildirim
Birthdate: April 13, 1979
Birthplace: Konya, Turkey
Height: 182 cm
Eye Color: Brown
Hair Color: Black
Education: Yildiz Teknik University Mechanics Engineering (Yildiz Teknik Universitesi Makine Muhendisligi)
Talent Agency: Id Iletisim
Spouse: Burcin Terzioglu (m. 2008–2014); Iman Elbani (m. 2016-present)
Biography: Murat Yildirim as born in Konya in 1979 while his father was working there as a teacher. He originally comes from Mardin. He graduated from Yildiz Teknik University after 8 years. He met Burcin Terzioglu while shooting the Turkish drama The Storm (Firtina) and got married to her in 20 June 2008. Murat Yildirim and Burcin Terzioglu got divorced in 30 June 2014. After then, Murat Yildirim met the Moroccan actress Iman Elbani in London and got married to her in 13 November 2016 in Adana.
Murat Yildirim Tv Series / Movies
1999 – Ayrilsak da Beraberiz
2003 – Hayat Bilgisi
2003 – Who is Boss? (Patron Kim?)
2003 – Immortal Love (Olumsuz Ask) (as Sedat)
2004 – My All Children (Butun Cocuklarim) (as Mesut)
2004 – The Big Lie (Buyuk Yalan) (as Okan)
2005 – Magic Carpet Ride (Organize Isler) (as Tabutcu) (Movie)
2006 – 2007 The Storm (Firtina) (as Ali)
2006 – The Abortion (Araf) (as Cenk) (Movie)
2007 – 2009 Rebellious (Asi) (as Demir Dogan)
2009 – Ey Ask Nerdesin (as Police Cetin)
2009 – 2011 Love and Punishment (Ask ve Ceza) (as Savas Baldar)
2009 – Pains of Autumn (Guz Sancisi) (as Behcet) (Movie)
2012 – Game of Silence (Suskunlar) (as Ecevit Oran)
2014 – Cremean (Kirimli) (As Sadik Turan) (Movie)
2015 – Husband Factor (Kocan Kadar Konus) (as Sinan Unver) (Movie)
2016 – Queen of Night (Gecenin Kralicesi) (as Kartal Sakallioglu)
2016 – Husband Factor: Resurrection (Kocan Kadar Konus: Dirilis) (as Sinan Unver) (Movie)
2017 – Eternal Love (Sonsuz Ask) (as Can Tuzmen) (Movie)
2017 – Ayla: The Daughter of War (Ayla) (as Ustegmen Mesut) (Movie)
2017 – First Kiss (Ilk Opucuk) (as Hakan Tasyapar) (Movie)
2018 – Scorpion (as Yassir) (Movie)
2020 – 2021 Ramo (as Ramo / Ramazan Kaya)
2020 – Mako (as Murad) (Movie)
2021 – Aziz (as Aziz Payidar)
Awards
Social
Instagram: https://www.instagram.com/mrtyldrm/
Twitter: https://twitter.com/myildirimresmi
Facebook: https://www.facebook.com/muratyildirimofficial
E-Mail: [email protected]
Trivia
Body Type:
Skills:
Star Sign: Aries
Blood Type:
Hobbies:
Weight: 72 kg
Murat Yildirim Gallery
Showreel (with English Subtitle)
Murat Yildirim Showreel (Eng Sub)