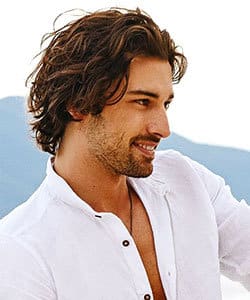 Profile
Name: Alp Navruz
Birthdate: January 15, 1990
Birthplace: Istanbul, Turkey
Height: 183 cm
Eye Color: Hazel
Hair Color: Black
Education: Yildiz Technical University – Turkish Literature (Yildiz Teknik Universitesi Turk Dili ve Edebiyati Bolumu)
Talent Agency: UK Iletisim Menajerlik
Spouse:
Biography: Alp Navruz was born in 15 January 1990 in Istanbul. After he studied Turkish literature at Yildiz Technical University, he started his career as a model. While he works as a model, he also took acting lessons. After taking part in various tv series, he became very popular with his role in popular Turkish drama Mrs. Fazilet and Her Daughters (Fazilet Hanim ve Kizlari).
Alp Navruz Tv Series / Movies
2015 – Ceberrut (as Mert) (Movie)
2016 – Love Does Not Listen To Reason (Ask Laftan Anlamaz) (as Cenk)
2016 – Friends Forever (Arkadaslar Iyidir) (as Berke)
2017 – 2018 Mrs. Fazilet and Her Daughters (Fazilet Hanim ve Kizlari) (as Sinan Egemen)
2018 – 2019 Hold My Hands (Elimi Birakma) (as Cenk Celen)
2020 – Phoenix (Zumruduanka) (as Serhat Demirkan)

Commercials
2018 – 2019 Hatemoglu (Brand Face)
2018 – Hummel (Brand Face)
Alp Navruz Social
Instagram: https://www.instagram.com/alpnavruz/
Twitter: https://twitter.com/alpnavruz
Things You Should Know About Alp Navruz

Who are you listening to nowadays?
Justin Timberlake
Whose style do you like the most?
Gigi Hadid and Tom Handy
What did you buy as a gift?
A watch for my friend
What can't you put up with in women?
A lie
Which parfume do you use?
Versace Eros
What is your favorite location for vacation?
Izmir, Turkey
What is your favorite food?
I like every food!
Which application do you use the most?
Instagram
If you were not an actor, what would you become?
I would be the cook
What can you give as an advice for love?
Be honest all the time!
2017 Cosmopolitan Video
Alp Navruz - 2017 Cosmopolitan
2017 Cosmopolitan Video Backstage
Alp Navruz - 2017 Cosmopolitan Backstage