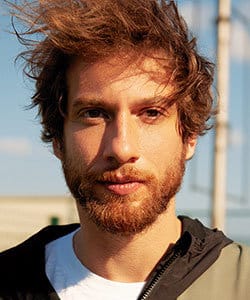 Profile
Name: Utku Ates
Birthdate: April 19, 1990
Birthplace: Istanbul, Turkey
Height: 190 cm
Eye Color: Brown
Hair Color: Brown
Education: Bahcesehir University Cinema and Television School (Bahcesehir Universitesi Sinema ve Televizyon Bolumu)
Talent Agency: Renda Guner Cast Agency
Spouse:
Biography: Utku Ates was born in 1990 in Istanbul. He made his debut with his role in Turkish drama Kurt Seyit and Shura. Meanwhile, he took acting lessons at Akademi 35,5 and worked together with Nezakat Coskun and Merve Girgin.
Utku Ates Tv Series / Movies
2014 – Kurt Seyit and Shura (Kurt Seyit ve Sura)
2014 – Very Soon (Pek Yakinda) (Movie)
2015 – Strawberry Smell (Cilek Kokusu) (as Baris)
2016 – Family Issue (Aile Isi) (as Kaan)
2016 – 2017 For My Son (Poyraz Karayel) (as Fatih)
2018 – Two Parts One Love (Ege'nin Hamsisi) (as Sinan)
2018 – Jet Society (Jet Sosyete) (as Berk)
2018 – Life of Secrets (Hayat Sirlari) (as Murat Basar)
2019 – Early Bird (Erkenci Kus) (as Yigit)
2020 – 2021 An Anatolian Tale (Gonul Dagi) (as Serdar)
2021 – Love Reserved (Cam Tavanlar) (as Iskender)
Awards
Social
Instagram: https://www.instagram.com/utkuates/
Twitter:
Facebook:
E-Mail:
Trivia
Body Type:
Skills:
Star Sign:
Blood Type:
Hobbies:
Utku Ates Gallery
For GAP
Time Travel