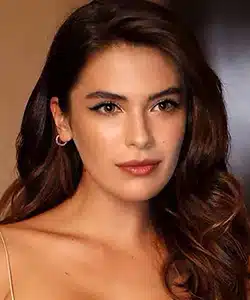 Profile
Name: Biran Damla Yilmaz
Birthdate: June 28, 1997
Birthplace: Istanbul, Turkey
Height: 164 cm (5′ 4½")
Eye Color: Green
Hair Color: Brown
Education: Conservatory
Talent Agency: Just7 Agency
Spouse:
Biography: Biran Damla Yilmaz was born in 28 June 1997 in Istanbul. She started her acting career in 2013 and still continues her education at the Conservatory. She first became the lead actress at Turkish series Orphan Flowers (Kirgin Cicekler). After then, she continues to take part in successful tv projects such as Canevim and Nehir (Baraj – Dam).
Biran Damla Yilmaz Tv Series / Movies
2014 – Magnificent Century (Muhtesem Yuzyil)
2014 – Forbidden (Yasak) (as Esma)
2015 – White Lie (Beyaz Yalan) (as Nesrin)
2015 – Cool School 4: Island (Cilgin Dersane 4: Ada) (as Deniz) (Movie)
2015 – 2018 Orphan Flowers (Kirgin Cicekler) (as Eylul)
2019 – Canevim (as Ceylan)
2019 – Miracle 2: Love (Mucize 2: Ask) (as Mizgin) (Movie)
2020 – Nehir (Baraj – Dam) (as Nehir)
Awards
Social
Instagram: https://www.instagram.com/bdamlayilmaz/
Twitter:
Facebook:
Youtube Channel: https://www.youtube.com/channel/UCXSnMr0YOXUDKawBS_V05aw
E-Mail: [email protected]
Trivia
Body Type:
Skills:
Star Sign: Crab
Blood Type:
Hobbies:
Weight: 54 kg
Gallery
Make-up
Biran Damla Yılmaz Makyaj Videosu Hamiyet Akpınar
Miracle 2: Love Movie Presentation
Biran Damla Yilmaz - Miracle 2: Love