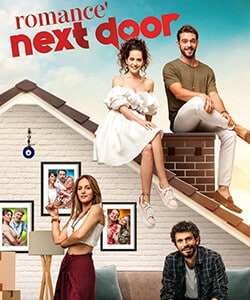 Details
Original Title: Cati Kati Ask
English Title: Romance Next Door
Also Known As: The Penthouse Love
Genre: Romance, Comedy
Episodes: 16
Broadcast Network: Kanal D
Broadcast Period: 9 July 2020 – 24 October 2020
Production Company: Mia Yapim
Director: Fehmi Ozturk
Screen Writer: Ramazan Demirli, Gokhan Temel, Ozgur Agaoglu, Seyda Delibasi
Filming Locations: Istanbul, Turkey
Synopsis
Aysen (Ezgi Senler) is a young and beautiful girl who studies fashion design. After she was abandoned by her parents when she was a little baby, she has been raised by a warm family. Even though Aysen is left alone by her birth parents, she never lacks for family love, coziness, and kindliness.
Aysen becomes the daughter of the family which consists of father Celal (Renan Bilek), mother Perihan (Tulay Gunal), grandmother Saadet (Bedia Ener), sister Suheyla (Pelin Oztekin), brother-in-law Suayip (Bulent Seyran), and brother Demir (Yigit Kirazci).
The life of this warm family gets into a difficulty when they could not get 6-months rent from their penthouse and they could not pay their debt for Turkish type dumplings restaurant.

The family head Celal decides to sell their house and restaurant, pay their debt, and then return to their hometown after Aysen graduates within a couple of months. However, all family members think that they could overcome this financial difficulty if they continue to live in solidarity.
Demir wants to run their restaurant by himself instead of selling it. Aysen wants to work part-time to support her family. Suheyla wants to rent their penthouse for a married couple to receive their rent revenues regularly. Hence, the family decides to do their best all together.
The life of Aysen and her family changes dramatically with the arrival of Ates (Furkan Andic) and Yasemin (Nilay Deniz) as new tenants for the penthouse.
Ates (Furkan Andic) is a young and handsome guy who comes from a wealthy family. Even though he has graduated from a medical school, he decides to do whatever he likes instead of benefiting from his medical school diploma. He does rally sport and enjoys participating to speed race. For this reason, he does not get along well with his father who wants his son to work as a doctor.
One day, Ates discusses with his father again and leaves the house in order to live according to his wishes. Ates does not want anything that belongs to his father such as his car, the credit cards, and the money. Without the help of his father, Ates becomes without a penny yet gets a chance to live as he wishes.
Yasemin (Nilay Deniz), on the other hand, is a young girl who comes from an ordinary middle class family. She studies gastronomy and at the same time, works at restaurant as a part-time employee in order to support her living expenses. When her father becomes sick and her mother loses her job, Yasemin understands that she needs to do her best to survive by herself and support her family as much as possible. After she has been dismissed by her roommates, Yasemin has nothing to do but to find an affordable house to live.
Out of pure coincidence, Ates and Yasemin want to rent the penthouse at the same time. When they apply for renting the penthouse, they learn that the house owner does not want a single tenant but wants a married couple.
Since the penthouse is an affordable house for their budget, Ates and Yasemin has nothing to do but to pretend to be a newly married couple.
Ates and Yasemin do not know each other very well but they start to act as if they are newly married in order to rent the penthouse. They meet the house owner Celal and his family and manage to convince the family members to rent the penthouse. After they move into the penthouse, the story becomes more complicated when Ates and Aysen get attracted to each other while Yasemin and Demir get attracted to each other.
Romance next door (cati kati ask) tv series story is about Ates, Aysen, Yasemin, and Demir who come from different backgrounds and start to live at the same house out of pure coincidence. Will Ates and Yasemin manage to pretend as a newly married couple successfully? Will Ates manage to live without the financial support of his father? Will Ates and Aysen fall in love with each other despite their different characters and family backgrounds?
Romance Next Door (Cati Kati Ask) Turkish Series Cast
External Links
Official Site: https://www.kanald.com.tr/cati-kati-ask
English Wikipedia:
Imdb:
You Might Also Like
You Knock on My Door (Sen Cal Kapimi)
What Happens to My Family (Baba Candir)
Romance Next Door Turkish Series Trailer (With English Subtitle)
Romance Next Door Turkish Series Trailer
Romance Next Door (Cati Kati Ask) Tv Series Trailer (with English Subtitle)
Romance Next Door (Cati Kati Ask) Tv Series (with English Subtitle)