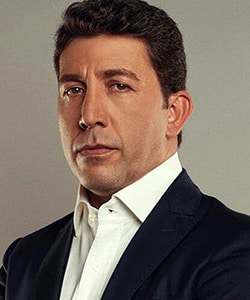 Profile
Name: Emre Kinay
Birthdate: March 5, 1970
Birthplace: Istanbul, Turkey
Height: 181 cm
Eye Color: Brown
Hair Color: Black
Education: Mimar Sinan University State Conservatory – Theatre (Mimar Sinan Universitesi Tiyatro Bolumu) (1995)
Talent Agency: Selin Kok Management
Spouse: Emine Un (m. 2004-2009)
Children: Duru Kinay
Biography: Emre Kinay was on 5 March 1970 in Istanbul. His mother and his father are both theatre players. Emre Kinay was studying at Mimar Sinan University, he also started to work at Bakirkoy Municipality Theatre in 1992. Emre Kinay started his acting career on TV in 1997 and became very popular with his role in popular Turkish drama Story of Snake (Yilan Hikayesi). He founded his own theatre "Duru Theatre" in 2005. Emre Kinay got married to popular Turkish model Emine Un in 2004 and became a father of a baby girl in 2005.

Emre Kinay Tv Series / Movies
1989 – Ours (Bizimkiler)
1994 – Gulsen Abi (as Talat)
1999 – 2001 Story of Snake (Yilan Hikayesi) (as Erkan Colakoglu)
1999 – Father (Baba) (as Yildirim)
1999 – Face Off (Yuzlesme) (as Kadir)
2001 – Istanbul Seven Hills (Yedi Tepe Istanbul) (as Yusuf)
2002 – Berivan (Berivan) (as Ferhat)
2003 – People of the Captive City (Esir Sehrin Insanlari) (as Kamil Bey)
2003 – School (Okul) (as Kemal) (Movie)
2003 – Under Construction (Insaat) (as Ali) (Movie)
2004 – Istanbul is My Witness (Istanbul Sahidimdir) (as Aslan Firat)
2005 – Empire of the Wolves (Kurtlar Imparatorlugu) (as Le Policier) (Movie)
2005 – Are You or Not? (Sen Misin Degil Misin?) (Burhan / Orhan / Ferhan)
2005 – I Missed You So Much (Seni Cok Ozledim) (as Kenan)
2005 – Loves to Death (Olumune Sevdalar) (as Murat Kaptan)
2006 – I Saw a Dream Last Night (Dun Gece Bir Ruya Gordum) (as Deniz) (Movie)
2006 – Truck (Kamyon)
2006 – 2008 Two Families (Iki Aile) (as Oguz Karaman)
2008 – Caramel (Karamel) (as Yusuf)
2009 – Ah My Heart (Ah Kalbim) (as Atilla)
2009 – Head of Family (Aile Reisi) (as Nazim)
2009 – I Saw the Sun (Gunesi Gordum) (as Musto) (Movie)
2010 – 2011 Duruye's Billycan (Duruye'nin Gugumleri) (as Zuhtu Gulbayir)
2010 – I Can't Live Without You (Sensiz Yasayamam) (as Dogan)
2011 – Formerly Story (Evvel Zaman Hikayesi)
2012 – Ustura Kemal (as Bennet)
2013 – 2014 Waiting for the Sun (Gunesi Beklerken) (as Cihan Guzel)
2013 – Ant Trap (Karinca Kapani) (Movie)
2014 – Are You With Me? (Benimle Var misin?) (Movie)
2014 – Start Over (Sil Bastan) (as Yigit Sen)
2014 – Buddy Istanbul (Ulan Istanbul) (as Firuz / Ahmet Yilmaz)
2014 – Once in Ten Years: Under Construction 2 (On Yilda Bir: Insaat 2) (as Ali) (Movie)
2015 – 2016 Sunshine Girls (Gunesin Kizlari) (as Haluk Mertoglu)
2017 – Black Destiny (Kara Yazi) (as Halil Ulucinar)
2017 – Sevda's Garden (Sevda'nin Bahcesi) (as Levent)
2017 – Fellow Traveller (Yol Arkadasim) (as Fevzi) (Movie)
2019 – Vurgun (as Vedat)
2019 – Dear Past (Sevgili Gecmis) (as Cemal Karalar)
2020 – The Red Room (Kirmizi Oda) (as Ahmet)
2020 – A Mother's Guilt (Bir Annenin Gunahi) (as Cetin)
2021 – Ramo (as Serif)
2022 – Son Nefesime Kadar (as Ferzan Birgen)
2022 – Tozluyaka (as Kenan Yagizoglu)
Awards
2004 –

23. Istanbul Film Festival (23. Istanbul Film Festivali) – Best Actor (Under Construction)

– En Iyi Erkek Oyuncu (Insaat)
2006 –

20th Afife Theatre Awards (20. Afife Tiyatro Odulleri) – Best Actor of the Year

(Yilin En Basarili Erkek Oyuncusu) (Kara Sohbet)
Theatre Plays
1991 – Firtina
1992 – Sofokles'in Antigone'si
1993 – Baris
1997 – Simyaci
1998 – Bozuk Duzen
1999 – Kuzguncuklu Fazilet
1999 – Bir Cinayet Soylencesi
1999 – Rumuz Goncagul
2002 – Ikinci Caddenin Mahkumu
2005 – Lutfen Kizimla Evlenir misiniz?
2005 – Sinir
2006 – Kara Sohbet
2007 – Bir Mutfak Masali
2008 – Ask Her Yerde
2010 – Sondan Sonra
2016 – Nihayet Bitti
2016 – Iki Bekar
Theatre Plays That He Directed
2002 – Ikinci Caddenin Mahkumu
2007 – Bir Mutfak Masali
2008 – Ask Her Yerde
2010 – Sondan Sonra
2011 – Tatli Carsamba
2012 – Nafile Dunya
Social
Instagram: Official Instagram Account
Twitter:
Facebook:
E-Mail:
Emre Kinay Gallery
Emre Kinay – Turkish Actor (Gemiler)
Emre Kinay - Turkish Actor (Gemiler)
Emre Kinay Turkish Actor (Yalniz ve Sessiz)
Emre Kinay Turkish Actor (Yalniz ve Sessiz)