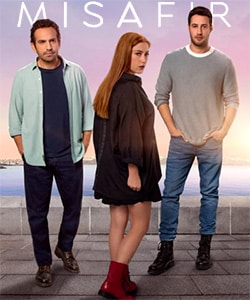 Details
Original Title: Misafir
English Title: The Guest
Also Known As:
Genre: Drama, Romance
Episodes: 5
Broadcast Network: Fox TV
Broadcast Period: 11 November 2021 – 9 December 2021
Production Company: MED Yapim
Director: Arda Sarigun
Screen Writer: Ozge Aras Yigit
Filming Locations: Istanbul, Turkey
Synopsis
Gece (Hazal Kaya) is a young girl who lives together with her mother Nazan. She has been raised in poverty without knowing her father.
Gece does not have a happy life. She has not received any compassion and love from her mother. She cannot endure the problems in her life and decides to commit suicide.
When Gece jumps from the bridge to end her life, she gets a second chance and starts her new life. She luckily survives and opens her eyes at the hospital. In order not to return her tragic life, she says that she has lost her memory and cannot remember even her name.

The life of Gece changes all of a sudden when she bumps into a young man Erdem (Bugra Gulsoy).
Erdem is a successful police officer who is a single dad of 3 children. After his wife passed away 6 months ago, he has tried his best to make his children happy. When he learns that Gece has lost her memory, he wants to help her until she gains her memory.
Gece starts to live together with Erdem and his family while pretending not to remember anything about her past. Even though she is not good at household chores, she starts to work as caretaker in the house.
Eventually, Gece finds happiness and family love. She gets the love she has never known in her life and takes a new name Gunes (literally the Sun in Turkish). Gece (literally the Night in Turkish) is reborn as the Sun in the warmth of this family.
Likewise, Erdem and his children manage to fill the gap in their family. However, Gece's dark past will haunt her and disturbs her happy new life. Meanwhile, Erdem's secret which he hides from everyone will ruin everyone's life.
The Guest (Misafir) tv series story is about a young girl Gece who leaves her past behind and starts a new life through pretending to have lost her memory. Will Gece manage to escape from her past? Will Erdem find out the truth about Gece's past? Will Gece eventually find happiness and peace in life?
The Guest (Misafir) Tv Series Cast
External Links
Official Site: https://www.fox.com.tr/Misafir
English Wikipedia:
Imdb:
Social
Instagram: https://www.instagram.com/misafirdizi/
Twitter: https://twitter.com/misafirdizi
Facebook: https://www.facebook.com/misafirdizi
Youtube Channel: https://www.youtube.com/channel/UC_0wBNfVImoaVtkQ8b69Mgg
You Might Also Like
Our Story (Bizim Hikaye)
Woman (Kadin)
The Guest (Misafir) Tv Series Trailer (with English Subtitle)
THE GUEST - New Series, with Hazal Kaya [Buğra Gülsoy] #buğragülsoy