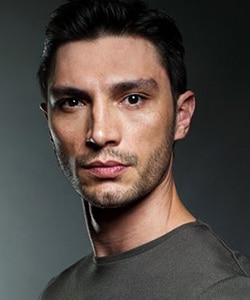 Profile
Name: Ilhan Sen
Birthdate: December 19, 1987
Birthplace: Shumen, Bulgaria
Height: 189 cm
Eye Color: Brown
Hair Color: Black
Education: Yildiz Technical University Civil Engineering School (Yildiz Teknik Universitesi Insaat Muhendisligi Bolumu)
Talent Agency: Icon Talent Management
Spouse:
Biography: Ilhan Sen (read as eelhan shan) was born in 19 December 1987 in Bulgaria. When he was 2 years old, his family moved to Istanbul. He went to primary and secondary school in Istanbul and then studied civil engineering at Yildiz Technical University. He became one of the finalists at 2008 Best Model of Turkey and was awarded with Best Swimsuit Model. In 2009, he participated to Best Model of Turkey Competition again and this time, he was awarded with 2009 Best Model of Turkey. After then, he represented Turkey at Best Model of the World competition organized in Bulgaria. Ilhan Sen became Best Model of Europe in 2010. He worked as a model for a while and then, started his acting career with his role at Turkish series Falcon Crest.
Ilhan Sen Tv Series / Movies
2018 – Mehmed: The Conqueror (Mehmed: Bir Cihan Fatihi) (as Sehzade Alaaddin)
2018 – Falcon Crest (Sahin Tepesi) (as Mete)
2018 – Perspective (Short Movie)
2019 – Bandits (Eskiya Dunyaya Hukumdar Olmaz) (as Ferman Facali)
2020 – Ramo (as Neco)
2020 – The Way We Are (Biz Boyleyiz) (Movie)
2021 – Waiting for You (Seni Cok Bekledim) (as Erol)
2021 – Love Logic Revenge (Ask Mantik Intikam) (as Ozan Korfali)
Awards
Social
Instagram: https://www.instagram.com/illhansen/
Twitter: https://twitter.com/illhansen
Facebook:
E-Mail:
Trivia
Body Type:
Skills:
Zodiac Sign: Sagittarius
Blood Type:
Hobbies:
Weight: 82 kg
Ilhan Sen Gallery
I'm going to burn!