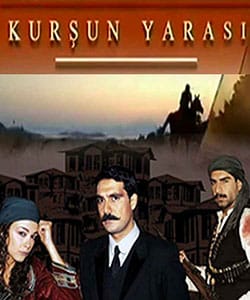 Details
Original Title: Kursun Yarasi
English Title: Bullet Wound
Also Known As:
Genre: History, Romance, Drama
Episodes: 60
Broadcast Network: ATV
Broadcast Period: September 16, 2003 – February 7, 2005
Production Company: Avsar Film
Director: Ozer Kiziltan
Screen Writer: Ayhan Sonyurek, Ilker Arslan, Cuneyt Bolak, Deniz Kamaci
Filming Locations: Istanbul, Turkey
Synopsis
Halil (Berdan Mardini) is an intrepid and righteous young man. He works as a porter at the port and has an honest life. One day, his blind father has become indebted for a large sum and wants to give Halil's sister to the lender as payment.
In order to save his sister's life, Halil gets involved in the smuggling business. During that time, he meets Gulsum (Gercek Buyuk Saglar) who is a young woman and works as a belly dancer. They fall in love with each other but their love is affected by newly assigned district governor.
This idealist patriotic young man, Cemal (Bulent Inal), is also struck by the beauty of Gulsum. Now, Gulsum is caught between the love and struggle of these two powerful men.

In bullet wound (kursun yarasi) tv series story, you will explore a triangle love story between Halil, Gulsum and Cemal while discovering the last days of Ottoman Empire. Will state official Cemal manage to catch smuggler Halil? Will Cemal and Halil come together in order to fight for the same goal, establishing a social order/ Will Gulsum choose Halil or Cemal?
Bullet Wound (Kursun Yarasi) Tv Series Cast
Berdan Mardini as Halil Efe
Gercek Buyuk Saglar as Gulsum
Bulent Inal as Cemal
Aycin Inci as Olimpia
Ahmet Yavuz Sepetci as Ibrahim Cavus
Avni Yalcin as Omer Cavus
Ahmet Mumtaz Taylan as Selamoglu
Nur Surer as Madam Marika
Emrah Elciboga as Mehmet
Mehmet Akan as Matasarrif
Mesut Akusta as Riza
Main Characters' Other Popular Dramas
Bulent Inal: Under the Linden Trees (Ihlamurlar Altinda), Endless Song (Bitmeyen Sarki)
External Links
Official Site: https://www.avsarfilm.com.tr/yapimlar/dizi/kursun-yarasi/
Imdb:
You Might Also Like
Black Snake (Karayilan)
Broken Wings (Kirik Kanatlar)