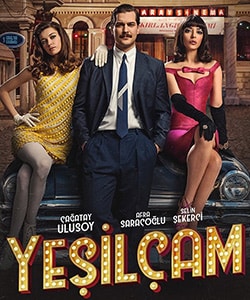 Details
Original Title: Yesilcam
English Title: The Green Pine
Also Known As:
Genre: Historical, Romance, Drama
Episodes: 20
Broadcast Network: Blu TV
Broadcast Period: 22 April 2021 – 10 December 2021
Production Company:
Director: Cagan Irmak
Screen Writer: Volkan Sumbul, Levent Cantek
Filming Locations: Istanbul Beyoglu District (Yesilcam Street and Ayhan Isik Street)
Synopsis
The story takes place in 1960s that is the golden age of Turkish cinema. Yesilcam (literally means The Green Pine in Turkish) refers to Turkish film industry that is similar to Hollywood in the U.S.
Yesilcam (The Green Pine) is a name referring to Turkish film industry after 1950s because many actors, directors, crew members and studios are based on the Yesilcam Street in Beyoglu District in Istanbul during that time.
Semih Ates (Cagatay Ulusoy) is a young, handsome and ambitious film producer who is the owner of Ates Film. When he is betrayed by his business partner Vehbi (Onur Bilge), Semih has nothing to do but to leave everything behind and start a journey from scratch.

After losing his company, Semih immediately opens a new company named Buyuk Ates Film (literally means Big Fire Film in English). He aims to make a successful film as soon as possible in order to survive in Turkish film industry.
During 1960s, Turkish film industry is very competitive such that Turkey produces 250 to 350 films annually. For this reason, Semih finds it very challenging to be successful in this competitive environment.
Semih never loses his faith to be successful because he trusts his vision and passion for filmmaking. Thus, he starts over and tries to do his best in order to make a comeback after a major setback. However, nobody wants to work with a small film production company.
Out of pure coincidence, Semih comes across to his long-lasted friend Turgut who has just got out of the prison. He gets the film script about two sisters that his friend has recently written. He believes that his next movie based on this story could be a blockbuster.
Semih wants to persuade his ex-wife Mine (Selin Sekerci) to take part in his next movie. Event though they are divorced, they still have feelings towards each other and they still keep in touch. Mine is a popular actress who has a busy schedule. She is secretly dating with a married man Reha (Yetkin Dikinciler) who is Semih's rival in the film industry.
Meanwhile, Semih's business partner Hakan (Bora Akkas) bumps into a young and beautiful girl Tulin (Afra Saracoglu) who dreams to be a successful actress. He sees a starshine in Tulin's eyes and understands that she has a potential to be become a rising star in a very short time.
When Semih meets Tulin in person, he decides to work with her in his new film project. He believes that he could make a successful film starring Mine and Tulin together. However, the arrival of Tulin changes all the things in Semih's life.
Tulin is a 20 years old girl who wants to work with the people whom she can trust. She wants to be an actress and she does not search for a rich husband. She has been living together with her mother after her father passed away when she was a little girl.
Yesilcam (The Green Pine) tv series story is about an ambitious producer Semih Ates who aims to make a blockbuster film in order to survive in a very competitive film industry. Will Semih manage to become successful in his new film project? Will Tulin accept to work together with Semih? Will Semih manage to turn a small film production company into a well-known company? Will Izzet get closer to Tulin? Will Mine continue to have an affair with Reha or return to her ex-husband Semih?
Yesilcam Tv Series Cast
Characters:
Semih is a young, handsome and ambitious film producer. His life is all about cinema and he says that "I die if I cannot shoot a film". His motto is as follows: "I make a film such that patients recover and seasons change." Semih has been raised under the custodian of a theatre owner and for this reason, he has been interested in cinema since childhood. He does not know anything about his father and his mother (a well-known prostitute) refuses to raise him.
Izzet works for the government. He has just returned from the United States. He is inspired by Hollywood's way of filmmaking and he tries to regulate Turkish film industry. Izzet has some physiological problems.
Mine is a beautiful and popular actress in Turkish film industry. She is Semih's ex-wife. Even though they are divorced, they still have feelings for each other. Mine is currently dating with Semih's rival Reha but she does not make her relationship public.
Tulin is a young and promising actress. Even though she is not educated, she has a potential to become successful in Turkish film industry (Yesilcam). Tulin gets many people's attention via her beauty but she chooses to work with Semih Ates even though he is a producer of a small production company. Tulin is affected by Semih's passion and intelligence.
Reha is a successful producer. He is one of Semih's rivals in the film industry. He is a married rich man who has a secret affair with Mine.
Belkis (Gungor Bayrak):
Belkis is Semih's mother. She used to work as a prostitute when she was young. She cannot become a good mother for his son and for this reason, she wants to be forgiven.
Hakan is Mine's brother and at the same time, Semih's business partner. He is a reckless young man who is fond of women.
External Links
Official Site: Broadcast Network
English Wikipedia:
Imdb:
You Might Also Like
I Named Her Feriha (Adini Feriha Koydum)
Yesilcam Tv Series Trailer
Yesilcam Tv Series Trailer
Yesilcam Tv Series Trailer 2
Yesilcam Tv Series Trailer 2