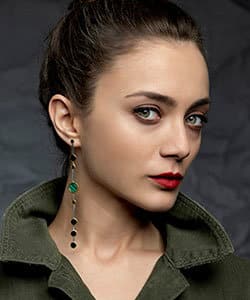 Profile
Name: Damla Sonmez
Birthdate: May 3, 1987
Birthplace: Istanbul, Turkey
Height: 162 cm (5′ 4″)
Eye Color: Blue
Hair Color: Brown
Education: Saint Joseph French High School (Saint Joseph Fransiz Lisesi); Paris Sorbonne University Theatre (Paris Sorbonne Universitesi Tiyatro); Yeditepe University Theatre (Yeditepe Universitesi Tiyatro Bolumu)
Talent Agency: Onem Gunal Management
Spouse:
Biography: Damla Sonmez studied at Mimar Sinan University State Conservatory as a part time student of piano (1 year) and violin (2 years). She worked with Stuart Burney at New York Black Nexxus Academia. She also took part in various theatre plays such as Constellations (Parcaciklar) at Purtelas, Lonely West (Yalniz Bati) at Theatre Yanetki, and War (Savas) at Theatre Yanetki.
Damla Sonmez Tv Series / Movies
2004 – Glass Shoes (Camdan Pabuclar) (as Gulcin)
2004 – Shoulder to Shoulder (Omuz Omuza) (as Pelin)
2005 – Yes Sir (Emret Komutanim) (as Karamel)
2005 – Open the Doors (Kapilari Acmak) (as Gulsen)
2006 – Pertev Bey's Three Daughters (Pertev Bey'in Uc Kizi) (as Nermin)
2006 – Fake Princess (Sahte Prenses) (as Sedef)
2006 – Don't Let the Songs Keep Silent (Sarkilar Susmasin) (as Aycan)
2007 – Stormy Love (Firtinali Ask) (as Melda Talay)
2008 – Night and Day (Gece Gunduz) (as Pinar)
2009 – Bornova Bornova (as Ozlem) (Movie)
2009 – Naked Foot at Campus (Kampuste Ciplak Ayaklar) (as Ebru) (Movie)
2010 – Mahpeyker Kosem Sultan (as Emine / Kosem Sultan) (Movie)
2010 – Turkan (as Turhan)
2010 – The Jackal (Cakal) (as Deniz) (Movie)
2011 – Last Stop: Salvation (Kurtulus Son Durak) (as Tulay) (Movie)
2012 – Long Story (Uzun Hikaye) (as Ayla) (Movie)
2012 – 2013 Subat (as Gelin)
2013 – A Love Story (Bir Ask Hikayesi) (as Ceylan German)
2013 – Thou Gild'st the Even (Sen Aydinlatirsin Geceyi) (as Defne) (Movie)
2014 – Across the Sea (Deniz Seviyesi) (as Damla) (Movie)
2014 – 2015 War of Roses (Gullerin Savasi) (as Gulru)
2017 – Ayla: The Daughter of War (as Nuran) (Movie)
2017 – 7Faces (7Yuz) (as Pinar)
2017 – Love and Pride (Ask ve Gurur) (as Zeynep)
2018 – Masum Degiliz (as Selin)
2018 – Sibel (as Sibel) (Movie)
2019 – I Am You (as Aisha) (Movie)
2019 – 2021 The Pit (Cukur) (as Efsun Kocovali)
2011 – Alala (Short Movie)
2011 – Korkuluk (Short Movie)
2020 – Rise of Empires: Ottoman (as Ana)
2020 – Alev Alev (as Damla)
2021 – Saygi (as Arya)
2021 – Aziz (as Dilruba)
Awards:
2009 – 46. International Golden Orange Film Festival (46. Uluslararasi Altin Portakal Film Festivali) – Best Actress in Supporting Role (Bornova Bornova) – En Iyi Yardimci Kadin Oyuncu (Bornova Bornova)
2009 – Ankara Flying Broom International Women's Film Festival (Ankara Uluslararasi Ucan Supurge Kadin Filimleri Festivali) – Young Witch (Bornova Bornova) – En Genc Cadi (Bornova Bornova)
2009 – Siyad Awards (Siyad Odulleri) – Best Actress in Supporting Role (Bornova Bornova) – En Iyi Yardimci Kadin Oyuncu (Bornova Bornova)
2010 – 15. Sadri Alisik Awards (15.Sadri Alisik Odulleri ) – Promising Young Actress (Bornova Bornova) – Umut Veren Oyuncu (Bornova Bornova)
2010 – Yesilcam Awards (Yesilcam Odulleri) – Young Talent (Bornova Bornova) – Genc Yetenek (Bornova Bornova)
2014 – 21. International Golden Cocoon Film Festival (21. Uluslararasi Altin Koza Film Festivali) – Best Actress (Across the Sea) – En Iyi Kadin Oyuncu (Deniz Seviyesi)
2015 – 15. Uluslararasi Milano Film Festivali (15. Uluslararasi Milano Film Festivali) – Best Actress (Across the Sea) – En Iyi Kadin Oyuncu (Deniz Seviyesi)
2018 – 25. International Adana Film Festival (25. Uluslararasi Adana Film Festivali) – Best Actress (Sibel) (En Iyi Kadin Oyuncu Odulu) (Sibel)
2018 – London Film Week – Best Actress (Sibel)
Theatre Plays
2008 – Surmanset
2009 – Shopping and F***ing (Alisveris ve S**s)
2012 – Yalniz Bati
2014 – Savas
2016 – Parcaciklar
2017 – Bi Parca Plastik
2021 – Hamlet
Social
Instagram: https://www.instagram.com/iamdamlasonmez/
Twitter: https://twitter.com/damlasonmez
Facebook: https://www.facebook.com/iamdamlasonmez/
E-Mail: [email protected]
Damla Sonmez Gallery