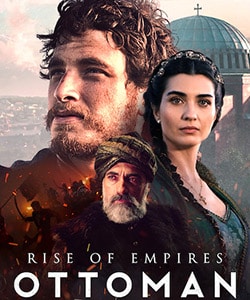 Details
Original Title: Rise of Empires: Ottoman
English Title:
Also Known As:
Genre: Historical, Docudrama
Episodes: 6
Broadcast Network: Netflix
Broadcast Period: 24 January 2020
Production Company: Kara Seven Pictures, STX Television
Director: Emre Sahin
Screen Writer: Kelly McPherson
Filming Locations: Istanbul, Turkey
Synopsis
In 1453, Roman Emperor Constantine XI and Ottoman Sultan Mehmed II (Cem Yigit Uzumoglu) start an epic war for Byzantine capital of Constantinople (Istanbul). This war would shape the course of history for centuries.
Constantinople is always cited as the promised land. Whoever holds Constantinople, he will be the ruler of the world.
One prophecy claims that a great warrior will take Constantinople, the center of Christian orthodoxy and bring it home to Islamic world.

There is also a particular hadith (saying of the Prophet Muhammed): "Surely you, the Islamic nation, will conquer Constantinople. And how wonderful will its commander be, the commander of that nation. How wonderful will the army be, the army of that nation."
Roman Empire holds Constantinople for almost 1100 years. The biggest threat to Romans' 1100 year reign are their longtime foes, the Ottomans. When Ottoman Sultan Murad II dies in 1451, his son Mehmed II comes to the Ottoman capital (Adrianople) to claim the throne. The death of Ottoman Sultan Murad II in 1451 brings the Ottomans and Romans to war over Constantinople.
Mehmed II is a crown prince who is 19 years old. He has been serving as governor in Manisa when his father Ottoman Sultan Murad II passes away. He is young and inexperienced. In order to prove himself and gain the trust of his people, he needs an achievement. Thus, Mehmed II decides to take Constantinople.
As a crowning achievement, Mehmed II sets a high target for himself. Taking Constantinople is not an easy goal because 23 armies has already tried to take Constantinople but failed eventually.
Mehmed II not only fights against Romans but also rival people under Ottoman Empire. Candarli Halil Pasha (Selim Bayraktar) is a grand vizier of Ottoman Empire for a long time. He does not believe that Mehmed II is qualified enough to become a new Ottoman Sultan. Thus, he wants to take control of ruling and intends to make Mehmed II as a puppet under his control.
Candarli Halil Pasha is also close to Loukas Noturas (Osman Sonant) who is the grand duke and right hand man of Constantinople. These two are friends and meet time to time in a secret way. Their friendship is not known by Mehmed II and this causes a threat for Mehmed II's sovereignty.
Meanwhile, Mehmed II has some close allies throughout his reign. Mara (Tuba Buyukustun) is a Serbian Princess who is Mehmed II's step mother. She is among Mehmed II's closest allies under Ottoman Empire. Also, Zaganos Pasha (Ushan Cakir) supports Mehmed II since his friendship during Manisa governorship.
Mehmed II is determined to take Constantinople whatever it costs. He builds Rumeli Fortress in the land of the Romans to control Bosphorus in 4-5 months. In order to take down the walls of Constantinople, he finds a qualified engineer Orban (Tansu Bicer). An engineer Orban takes all financial support from Mehmed II to design cannon that could take down insurmountable walls of Constantinople.
Meanwhile, Roman Empire hires a private soldier Giovanni Giustiniani (Birkan Sokullu) as their secret weapon for Constantinople. Giovanni is a strong warrior who has been fighting for a long time. He becomes the lead commander of Roman army and try to do his best to protect the walls of Constantinople.
The Rise of Empires: Ottoman tv series story is about the Ottoman Empire and Mehmed the Conqueror during the fall of Constantinople in 1453. Will Mehmed II achieve to take Constantinople eventually? What kind of war techniques will be used by Mehmed II and Giovanni? How will Constantinople wall's be destroyed?
The Rise of Empires: Ottoman Tv Series Cast
Cem Yigit Uzumoglu as Mehmed the Conqueror
Tommaso Basili as Roman Emperor Constantine XI
Tuba Buyukustun as Mara Brankovic
Damla Sonmez as Ana
Osman Sonant as Loukas Notaras
Tolga Tekin as Murad II
Ushan Cakir as Zaganos Pasha
Selim Bayraktar as Candarli Halil Pasha
Birkan Sokullu as Giovanni Giustiniani
Tansu Bicer as Orban
Nail Kirmizigul as Hizir Celebi
Eva Dedova as Katarina
Ilayda Akdogan as Therma Sphrantzes
Tugrul Tulek as George Sphrantzes
Erdal Yildiz as Suleiman Baltoghlu
Baki Davrak as Durad Brankovic
Ryan OL as Genovese Nobleman
External Links
Official Site: https://www.netflix.com/title/80990771
English Wikipedia:
Imdb:
You Might Also Like
Magnificent Century (Muhtesem Yuzyil)
Resurrection Ertugrul (Dirilis Ertugru)
Rise of Empires: Ottoman Netflix Tv Series Gallery
Rise of Empires: Ottoman Netflix Tv Series Trailer (English)
Rise of Empires: Ottoman Netflix Tv Series Trailer (English)
Rise of Empires: Ottoman Netflix Tv Series Trailer 2 (English)
Rise of Empires: Ottoman Tv Series Trailer - 2 (English)