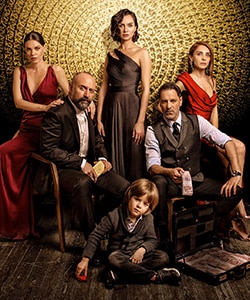 Details
Original Title: Babil
English Title: The Choice
Also Known As:
Genre: Romance, Drama
Episodes: 20
Broadcast Network: Star Tv
Broadcast Period: January 17, 2020 – November 20, 2020
Production Company: Ay Yapim
Director: Uluc Bayraktar
Screen Writer: Nukhet Bicakci, Ozlem Yucel
Filming Locations: Istanbul, Turkey
Synopsis
Irfan (Halit Ergenc) is an idealist economy professor who is married to Eda (Nur Fettahoglu). He is a trustworthy man who does his best to be a good husband, a good father, a good teacher, and a good citizen. However, his modest life turns upside down all of a sudden.
While Irfan is about to get promoted as a dean, he is slandered by his colleague and is discharged from the faculty. After 20 years of academic career, he finds himself unemployed. Even though he applies to the court, Irfan cannot prove his innocence right away. Thus, all his bank accounts have been blocked throughout investigation until he is declared innocent at the court.

Meanwhile, Irfan's 7-year-old son is diagnosed a brain tumor and is required to have a surgery immediately. Now, Irfan and his wife face another obstacle. They need to gather money in a very short time so that their son could have a successful operation.
In order to find money needed for the surgery, Irfan applies for numerous jobs. In fact, he has a very successful education track with a bachelor degree from Middle East Technical University, master's degree from Bogazici University, and post-doc degree from the US. Despite his successful background, Irfan could not find a job due to the ongoing investigation. At the same time, he talks with his friends to borrow money but all the doors get locked in his face one by one.
Irfan and Eda find themselves in a desperate situation. They have no money, no friends, and no property. At that exact moment, they get help from their childhood friend Egemen (Ozan Guven) who is carefree, cunning, and opportunist. Egemen offers to get a loan from his boss Suleyman (Mesut Akusta) who is a wealthy businessperson while he worked as a moneylender in the past.
Irfan finds himself in a dark adventure that he could never have imagined. He accepts to get a loan from Suleyman but he does not like his attitude and personality. Eventually, Irfan and his friend Egemen make a plan and decide to swindle Suleyman. After they get money, Irfan would go to the USA for his son's surgery and Egemen would leave the country. However, their lives are challenged numerous times.
In this dark adventure, Irfan meets his ex-love Ilay (Birce Akalay) who is now the mistress of Suleyman. Also, he meets Ayse (Asli Enver) who is an idealist young girl who does not find a job even though she has a university degree in literature.
The Choice (Babil) tv series story is about an idealist economy professor Irfan who finds himself in a dark adventure while trying to find money for his son's surgery. Will Irfan find enough money for his son's surgery? Will Egemen and Irfan manage to swindle dangerous businessman Suleyman and survive afterwards? Will Ayse become the savior Irfan? Will Irfan and Ilay forget about their past or they start over their love?
The Choice (Babil) Tv Series Cast
Halit Ergenc as Irfan Tuna Saygun
Ozan Guven as Egemen Kivilcim
Asli Enver as Ayse Karaali / Nihal
Birce Akalay as Ilay Yucedag
Nur Fettahoglu as Eda Saygun
Mesut Akusta as Suleyman Yavuncu
Veda Yurtsever as Kudret Yavuncu
Selahattin Pasali as Hakan Yavuncu
Lesli Karavil as Funda
Mert Dogan as Yalcin
Gizem Kala as Nehir Yucedag
Gurberk Polat as Mert
Beren Kasimogullari as Deniz Saygun
Seniz Cetin as Busra
Gozde Kocaoglu as Demet
Abrurrahman Yunusoglu as Saffet
Onur Saylak as Egemen
Baris Aksavas as Sedat
External Links
Official Site: https://www.startv.com.tr
English Wikipedia:
Imdb:
Social
Instagram: https://www.instagram.com
Twitter: https://twitter.com
Facebook: https://www.facebook.com
Youtube Channel: https://www.youtube.com
You Might Also Like
End (Son)