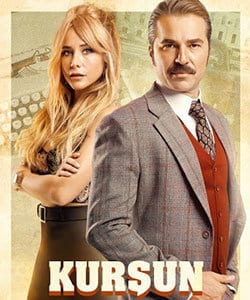 Details
Original Title: Kursun
English Title: Bullet
Also Known As:
Genre: Action, Drama
Episodes: 7
Broadcast Network: Fox Tv
Broadcast Period: October 23, 2019 – December 4, 2019
Production Company: Most Production
Director: Murat Can Oguz, Burak Arlier
Screen Writer: Kerem Deren
Filming Locations: Istanbul, Turkey
Synopsis
The story takes place in 1970s in Istanbul, Turkey.
Orhan (Engin Altan Duzyatan) is a young prosecutor who does not refrain from doing anything to secure the justice. He is given a difficult case where a young girl is killed and a son of a congressman becomes a murder suspect.
Even though a murder suspect is from a wealthy and powerful family, Orhan is determined to solve the case without any fear. However, he soon realizes that this murder case is connected to the underground world of Istanbul. Thus, Orhan is even resisted by his supervisors in the courthouse.
Leyla (Burcin Terzioglu), on the other hand, is a young, ambitious, and talented journalist. After her father left when she was a little girl, she learns not to trust anybody.

Leyla lives together with her mother who suffers from mental health problems and for this reason, Leyla develops a strong personality. She dedicates her life to her job and wants to do anything in pursuit of truth.
The lives of Orhan and Leyla intersect due to the murder case. Orhan wants to solve the case despite all the obstacles and Leyla wants to report all the news to the public. Throughout this process, these two young people have nothing to do but to work together against the mafia ruling Istanbul behind the scenes.
While they are searching for the truth about the murder case, they find a witness: Gulce (Berrak Tuzunatac). Gulce is a night club singer who sees the murder and explains that this murder is connected to the mafia relations. Since the murdered girl finds out the paper disclosing these mafia relations, she is murdered.
Gulce is afraid of being realized and does not want to be a witness for this case. She wants her life back and wants to protect her little child.
Bullet (Kursun) tv series story is about a young prosecutor who does not refrain from doing anything to secure the justice and a beautiful journalist. Will Orhan eventually secure the justice and solve the murder case? Will Leyla trust Orhan and stay by his side no matter what? Will Orhan and Leyla manage to protect their families and loved ones in this difficult process?
Bullet (Kursun) Tv Series Cast
Engin Altan Duzyatan as Orhan Atmaca
Burcin Terzioglu as Leyla Devrim
Berrak Tuzunatac as Gulce Akar
Sarp Akkaya as Aydin Kara
Engin Senkan as Bunyamin Ayaz
Kursat Alniacik as Nuri Kargi
Seda Akman as Feraye Kargi
Bora Akkas as Rifat Ayaz
Begum Akkaya as Tomris Ayaz
Gulizar Irmak as Nahide
Sebnem Dilligil as Zehra Atmaca
Ali Riza Kubilay as Harun
Cem Kurtoglu as Fahri Onal
External Links
Official Site: https://www.fox.com.tr/Kursun
English Wikipedia:
Imdb:
You Might Also Like
Karadayi