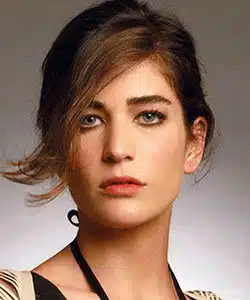 Profile
Name: Berrak Tuzunatac
Birthdate: November 2, 1984
Birthplace: Yalova, Turkey
Height: 170 cm
Eye Color: Blue
Hair Color: Brown
Education: Istanbul University Business Administration (Istanbul Universitesi Isletme Fakultesi); Koc High School (Koc Lisesi)
Talent Agency:
Spouse:
Biography: Berrak Tuzunatac was born in November 2, 1984 in Yalova. When she started high school, she and her family move to Istanbul. She joined Besiktas Culture Center (BKM) in 2004 and took acting lessons. Berrak Tuzunatac started her acting career on TV with her role in Borrowed Life (Odunc Hayat) but she became very popular with her role in popular Turkish drama Farewell Rumalia (Elveda Rumeli).
Berrak Tuzunatac Tv Series / Movies
2005 – Shatterred Soul (Beyza'nin Kadinlari) (as Figen) (Movie)
2005 – Magic Carpet Ride (Organize Isler) (as Ebru) (Movie)
2005 – Borrowed Life (Odunc Hayat) (as Feyzan)
2007 – Unforgiven (Affedilmeyen) (as Duygu)
2007 – 2008 Farewell Rumalia (Elveda Rumeli) (as Vahide)
2009 – Does This Heart Forget You? (Bu Kalp Seni Unutur Mu?) (as Yildiz Akay)
2009 – Dragon Trap (Ejder Kapani) (as Ezo) (Movie)
2010 – Ezel (as Bade Uysal)
2009 – Envy (Kiskanmak) (as Mukerrem) (Movie)
2010 – A Handfull of Sea (Bir Avuc Deniz) (as Deniz Demirci) (Movie)
2012 – The End (Son) (as Alev)
2013 – Magnificent Century (Muhtesem Yuzyil) (as Mihrunisa Sultan)
2013 – 2014 Galip Dervis (as Leyla)
2013 – Gallipoli The End of Road (Canakkale Yolun Sonu) (as Behice) (Movie)
2015 – Black Horse Memories (Movie)
2015 – Filinta (as Farah)
2016 – Nick Off Duty (as Reyhan) (Movie)
2017 – Phi (Fi) (as Ozge Egeli)
2018 – The Deep (Dip) (as Ekin)
2019 – Bullet (Kursun) (as Gulce)
2020 – Biz Boyleyiz (as Emre) (Movie)
Social
Instagram: https://www.instagram.com/berrocks/
Twitter: https://twitter.com/berraktzntc
Facebook:
E-Mail:
Berrak Tuzunatac Gallery
Berrak Tuzunatac Magazine Cover
All Magazine – BackStage
XOXO Magazine – BackStage
Berrak Tuzunatac Turkish Actress
InStyle Magazine – BackStage