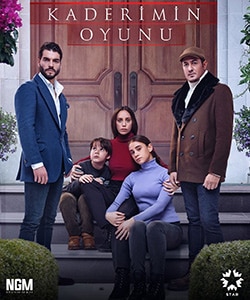 Details
Original Title: Kaderimin Oyunu
English Title: The Game of My Destiny
Also Known As: Amor y Traición
Genre: Romance, Drama
Episodes: 26 (each episode is 120 minutes)
Broadcast Network: Star TV
Broadcast Period: 3 December 2021 – 17 June 2022
Production Company: NGM Yapim
Director: Emre Kabakusak
Screen Writer: Gul Abus Semerci, Melis Veziroglu, Pinar Ordu, Selin Yaltaal, Meryem Demirli, Burcu Over
Filming Locations: Istanbul, Amasya
Synopsis
Asiye (Oyku Karayel) is a young and beautiful woman who has been raising her children by herself. When she gives birth to her second child, she becomes all alone. Her husband Cemal (Akin Akinozu) abandons them due to financial problems and never comes back.
Asiye does her best to raise her daughter Nergis (Iraz Akcam) and her son Ugur. Even though she works so hard, she cannot provide a decent life for her family. However, she never complains and tries to be very strong for the sake of her children.

The life of Asiye and her children turns upside down all of a sudden. Her daughter Nergis kills their neighbor who attempts to rape her. This unfortunate incident shatters their modest life.
In order to protect her daughter, Asiye decides to leave everything behind and escape from the police. She does not want to let her daughter be put in prison. Thus, she takes her children and hits the road.
Out of pure coincidence, Asiye comes across a young man Mahir (Sarp Apak) on the way. Mahir is a young businessman who has been living in Russia for a long time and goes to Istanbul to visit his family. When he understands that Asiye and her children are in a difficult situation, he becomes willing to help them and offers them a ride.
However, they make a car accident on their way to Istanbul. While Mahir is in intensive care, his family assumes that Asiye is Mahir's wife and the children Nergis and Ugur are Mahir's children.
Asiye and her children find themselves in a beautiful Demirhan mansion. However, rather than finding salvation there, they find themselves confronted with a new challenge. There, Asiye bumps into her ex-husband Cemal who has abandoned them years ago.
Demirhan family is a wealthy family in Istanbul. Harun (Mufit Kayacan) is the head of the powerful Demirhan family and he has two children Raci (Kaan Cakir) and Helin (Meric Aral).
Asiye's ex-husband Cemal is now married to Helin and has a happy marriage. He enjoys his wealthy life together with his wife and his son. Whenever he sees Asiye, he pretends not to know her.
Asiye finds herself in a very difficult situation. She and her children need to disguise their identities in order to hide out from the police. They pretend to be Mahir's family and decide to live in the Demirhan mansion for a while. At the same time, they pretend not to know Cemal.
The Game of My Destiny (Kaderimin Oyunu) tv series story is about a single mother Asiye who comes across her ex-husband Cemal years later. Will Asiye reunite with Cemal or make a fresh start with Mahir? Will Asiye overcome her cruel destiny and find happiness for her children? Will Nergis remember her father Cemal? Will Asiye manage to protect her daughter Nergis?
The Game of My Destiny (Kaderimin Oyunu) Tv Series Cast
Additional Cast Members
Yesim Gul as Emine Kutay
Onur Bilge as Fikret Kutay
Ayca Koptur as Gulsum Kutay
Mustafa Arda Isik as Alican Kutay
Cemre Melis Cinar as Meral
Esengul Aypek as Zuhal
Bartu Barlas Bozaci as Ahmet Kaya
Elmira Akgun as Ilayda Demirhan
Alper Irvan as Necmi
Characters:
Asiye is a beautiful young woman who has a daughter and son. She gets married to her first love Cemal from her neighborhood when she is very young. On the day of giving birth to her son, Cemal abandons them. After then, Asiye becomes all alone and does her best to raise her children in poverty. 7 years later, when her daughter Nergis kills a man, Asiye decides to escape from the police and finds herself in the Demirhan family. Asiye comes across a decent man Mahir who is the illegitimate son of Demirhan family. She needs to make a tough decision of reuniting with her ex-husband Cemal or making a fresh start with Mahir.
Cemal is a young man who has been raised in an orphanage. He gets married to his first love Asiye and has a happy marriage. He does his best to have a decent life and works so hard as a truck driver. However, he cannot manage to get rid of financial problems and abandons his family responsibilities. Cemal gets married to Helin and starts to have a wealthy life even though he still loves Asiye. He regrets his decision and wants to return to Asiye and his modest life. But, he cannot leave Helin when he learns that she is pregnant. 7 years later, Cemal comes across his ex-wife Asiye in the Demirhan mansion.
Mahir is the illegitimate son of Demirhan family. He has been raised by the servants of Demirhan family. After learning the truth about his biological father (Harun Demirhan), he leaves everything behind and starts to live in Russia. 17 years later, he returns to Istanbul and comes across Asiye on his way. Mahir is a mature and merciful man who never avoids responsibility and has to fight to achieve success. He does his best to help Asiye and her children when he understands that they are in a difficult situation. Later on, he develops some feelings towards Asiye.
Helin is the daughter of Demirhan family. She is married to Cemal and has a son. She loves Cemal to death and is determined not to lose him no matter what.
Zahide is the daughter-in-law of Demirhan family. She is married to Raci and has a daughter. She suspects Asiye and Mahir and does her best to learn the truth about their past.
Raci (Kaan Cakir):
Raci is the son of Demirhan family and is married to Zahide. He takes over family business but engages in illegal gambling activities in Demirhan hotels. He considers Mahir as a threat for his legacy and wants to ruin his reputation.
External Links
Official Site: Broadcast Network
English Wikipedia:
Imdb:
Social
Instagram: Instagram – kaderiminoyunutv
Twitter: @kaderiminoyuntv
Facebook: Facebook – kaderiminoyunutv
Youtube Channel: Youtube – @KaderiminOyunuDizi
You Might Also Like
Forbidden Love (Aski Memnu)
The Game of My Destiny (Kaderimin Oyunu) Tv Series Trailer (with English Subtitle)
Kaderimin Oyunu - Tanıtım
The Game of My Destiny (Kaderimin Oyunu) Turkish Drama Trailer (with English Subtitle)
Kaderimin Oyunu 2. Tanıtım