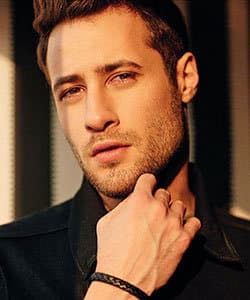 Profile
Name: Mehmet Ozan Dolunay
Birthdate: January 17, 1991
Birthplace: Istanbul, Turkey
Height: 179 cm
Eye Color: Green
Hair Color: Black
Education: Koc University Mechanic Engineering (Koc Universitesi Makine Muhendisligi)
Talent Agency: ID iletisim
Spouse:
Biography: Mehmet Ozan Dolunay was born in 17 January 1991 in Ankara. He graduated from Enka High School (Enka Lisesi) and Cleveland Highs High School. While he was studying at Koc University, he also took acting lessons from Ipek Bilgin, Cag Caliskur, and Bahar Kerimoglu at Acting Atelier (Oyunculuk Atolyesi). He made his debut with his role at turkish series Pretty Little Liars (Tatli Kucuk Yalancilar).
Mehmet Ozan Dolunay Tv Series / Movies
2015 – Pretty Little Liars (Tatli Kucuk Yalancilar) (as Baris)
2016 – Killjoy (Oyunbozan) (as Ruzgar)
2016 – High Society (Yuksek Sosyete) (as Mert Calhan)
2017 – High School Patrol (Lise Devriyesi) (as Yigit Dogrusoz)
2018 – Love Puzzle (Darisi Basimiza) (as Ozan Tekinsoy)
2019 – 2020 Ruthless City (Zalim Istanbul) (as Cenk Karacay)
2020 – Happily Ever After (Iyi Gunde Kotu Gunde) (as Sarp Karasu)
2020 – The Agency (Menajerimi Ara) (as Mehmet)
2021 – The Guest (Misafir) (as Giray)
2021 – Bizi Ayiran Cizgi (as Sinan Elci)
Awards
2018 – Ustun Akmen Awards – Promising Young Actor (Killology)
Theatre Plays
2018 – 2019 Killology (as Davey)
Social
Instagram: https://www.instagram.com/modolunay/
Twitter: https://twitter.com/modolunay
Facebook:
E-Mail:
Trivia
Body Type:
Skills:
Star Sign:
Blood Type:
Hobbies:
Gallery
About Killology (with English Subtitle)