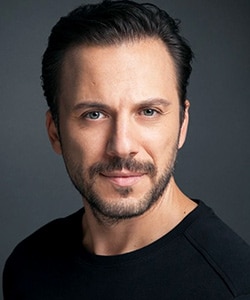 Profile
Name: Serkan Altunorak
Birthdate: December 24, 1976
Birthplace: Ankara, Turkey
Height: 182 cm
Eye Color: Blue
Hair Color: Black
Education: Hacettepe University – Theatre (Hacettepe Universitesi Tiyatro Bolumu), Mimar Sinan University – Fine Arts (Mimar Sinan Universitesi Guzel Sanatlar Bolumu)
Talent Agency:
Spouse:
Biography: Serkan Altunorak was born in 24 December 1976 in Ankara. He graduated from Hacetttepe University Theatre. He is also a graduate from Mimar Sinan University State Conservatory – Fine Arts School. Serkan Altunorak was injured while shooting a tv series Impossible Love (Imkansiz Ask) in 2006. He was supposed to play russian roulette in a scene but he was covered in blood when he pulled the trigger. He was severely injured and treated for a long time due to the loaded gun. Serkan Altunorak became popular with his role as Taslicali Yahya at popular Turkish series Magnificent Century (Muhtesem Yuzyil).

Serkan Altunorak Tv Series / Movies
Awards
2008 – Sadri Alisik Odulleri – Efes Pilsen Genclik Ozel Odulu (Kurklu Merkur)
2010 – Sadri Alisik Odulleri – Secici Kurul Ozel Odulu (Alisveris ve S***s)
2018 – 18. Direklerarasi Seyirci Odulleri – Kucuk Salon Erkek Oyuncu Odulu (Killology)
Theatre Plays
2007 – Kurklu Merkur
2008 – Vur / Yagmala / Yeniden
2009 – Alisveris ve S***s
2014 – Dovus Gecesi
2018 – Killology
2021 – Hircin Kiz
Social
Instagram: Official Instagram Account
Twitter: Official Twitter Account
Facebook:
E-Mail: