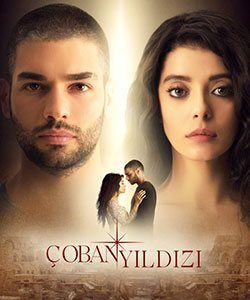 Details
Original Title: Coban Yildizi
English Title: Lodestar
Also Known As: Venus
Genre: Melodrama, Romance
Episodes: 17
Broadcast Network: Fox TV
Broadcast Period: March 2, 2017 – June 22, 2017
Production Company: Most Production
Director: Gul Oguz
Screen Writer: Gulizar Irmak
Synopsis
Zuhre (Selin Sekerci) is a young and beautiful girl who lives in Nigde (the city in the middle of Turkey). She is forced to get married to an old man and brought to Cappadoccia for her forced wedding.
Zuhre objects to this marriage and does not want to get married despite her father's promise. On her way towards Cappadoccia, she manages to run away from her father and meets Seyit (Sukru Ozyildiz).
Seyit is a young man who lives in Cappadoccia and works as a stone master. He is honest, brave and devoted to moral values. He lives together with her grandparents, mother and sister. He tries to do his best to support his family after his father has left them for another woman and moved to Istanbul.
Seyit helps Zuhre even though he cannot understand why this young woman is stranded in the middle of an express road. While he is giving her a ride to the nearest bus station, they meet Zuhre's father. Seyit cannot do anything to protect Zuhre and lets her go with her father.

Zuhre arrives at Cappadoccia and is kept at the house of Karakaya family that is the wealthiest family of Cappadoccia. Everyone in Cappadoccia is scared by Karakaya family and does not want to go against them.
The head of Karakaya family is an old man named Fikret (Menderes Samancilar) who wants to get married to Zuhre even though he is so much older than her. Fikret persuades Zuhre's father and gives him some money in return to this marriage. He wants to make Zuhre as her bride even if he knows that Zuhre does not want to get married. He thinks that sooner or later Zuhre will understand his power and will not do anthing but to accept this marriage.
On her wedding night, Zuhre is determined to kill herself. However, she stabs Fikret accidentally and runs away from the house without being seen by the guards. She does not have anything, neither money nor belongings. And she hides behind Seyit's stone workshop.
The next day, Seyit finds Zuhre in his workshop and decides to protect her even though it would be so hard to go against Karakaya family. He is attracted to Zuhre's innocence and resistance. However, he has to deal with Fikret and his dangerous son Zekkar (Selim Bayraktar). Zekkar is a nightclub boss in Istanbul and becomes the biggest obstacle in front of Seyit and Zuhre. He makes their lives a nightmare.
The story begins in Cappadoccia and expends to Istanbul.
In lodestar (coban yildizi) tv series story, you will explore the story of Zuhre who is forced to get married to an old man and brought to Cappadoccia for her forced wedding. Will Zuhre manage to escape from her fate and find happiness eventually? Will Seyit manage to protect Zuhre? Will Fikret forget his prospective wife Zuhre and continue to live in peace? Will Zekkar get what he wants this time?
Lodestar (Coban Yildizi) Tv Series Cast
Sukru Ozyildiz as Seyit Zahir
Selin Sekerci as Zuhre Filiz
Selim Bayraktar as Zekkar Karakaya
Menderes Samancilar as Fikret Karakaya
Serhat Ozcan as Ibrahim Zahir
Feyza Isik as Cevahir Zahir
Arif Erkin as Mustafa Zahir
Sahra Sas as Ruveyda Zahir
Taygun Sungar as Ali Karakaya
Aysun Metiner as Sirma Karakaya
Elif Cakman as Serife Gonen
External Links
Official Site: https://www.fox.com.tr/Coban-Yildizi/
English Wikipedia:
Imdb:
Social
Instagram: https://www.instagram.com/cobanyildizifox/
Facebook: https://www.facebook.com/cobanyfox/
Twitter: https://twitter.com/cobanyildizifox
You Might Also Like
Menekse and Halil (Menekse ile Halil)
Beyond the Clouds (Bir Bulut Olsam)
First trailer (Selin Sekerci's Sound)
Lodestar (Coban Yildizi) Tv Series First trailer
Lodestar (Coban Yildizi) Trailer (with English Subtitle)
Lodestar (Coban Yildizi) Tv Series Trailer (Eng Sub)