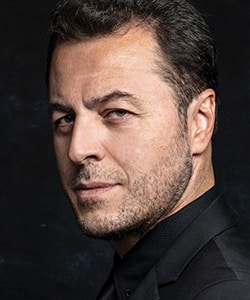 Profile
Name: Yetkin Dikinciler
Birthdate: August 15, 1969
Birthplace: Istanbul, Turkey
Height: 194 cm
Eye Color: Green
Hair Color: Black
Education: Mimar Sinan University State Conservatory – Theatre (Mimar Sinan Universitesi Devlet Konservatuvari Tiyatro Bolumu)
Talent Agency:
Spouse: Esra Akkaya (m. 1999 – 2000); Asli Orcan (m. 2014 – present)
Children: Lal Dikinciler
Biography: Yetkin Dikinciler was born in 15 August 1969 in Istanbul. He is the son of an army officer and a nurse. He started to study philosophy at Istanbul University but then dropped school when it was his third year at the school. He then started to study theatre at Mimar Sinan University and graduated in 1993. Yetkin Dikinciler got married to Esra Akkaya in 1999 and then got divorced in 2000. He got married to Asli Orcan in 2014. He has a daughter named Lal Dikinciler.
Yetkin Dikinciler Tv Series / Movies
1998 – Leoparin Kuyrugu (as Serdar) (Movie)
2003 – Seni Yasatacagim (as Resat)
2004 – European Side (Avrupa Yakasi)
2004 – Uc Kisilik Ask (as Cem) (Movie)
2004 – Gulizar (as Ismail) (Movie)
2005 – Broken Wings (Kirik Kanatlar)
2005 – The Net 2.0
2005 – Radyo Tantana (as Kenan) (Movie)
2005 – Misi (as Onur)
2005 – My Father and My Son (Babam ve Oglum) (as Salim)
2006 – Gozyasi Cetesi (as Cevahir)
2006 – Fog and Night (Sis ve Gece) (as Fahri) (Movie)
2006 – Kabuslar Evi (as Selim) (Movie)
2007 – Esref Saati (as Sari Esref)
2007 – The Messenger (Ulak) (as Adem) (Movie)
2007 – Blue Eyed Giant (Mavi Gozlu Dev) (as Nazim Hikmet) (Movie)
2007 – Black Pearl (Kara Inci) (as Semih)
2008 – The Master (Usta) (as Dogan Usta) (Movie)
2009 – Aile Saadeti (as Selim Pasa)
2010 – Umut Yolculari (as Mudur Mehmet)
2011 – Bizim Yenge (as Adem)
2012 – Ciplak Gercek (as Galip)
2012 – Merhaba Hayat (as Sinan)
2013 – Grapes of Hope (Umut Uzumleri) (as Ozan) (Movie)
2014 – Magnificent Century (Muhtesem Yuzyil) (as Kara Ahmed Pasa)
2013 – For My Daughter (Kizim Icin) (as Tuncer) (Movie)
2015 – A Unique Life (Nadide Hayat) (as Kaptan Yusuf) (Movie)
2017 – Her Sey Mumkun (as Ibrahim / Selim) (Movie)
2017 – 2018 Bahtiyar Never Dies (Bahtiyar Olmez) (as Bahtiyar Olmez / Rifat Cakar)
2019 – The Pocket Hercules Naim (Cep Herkulu: Naim Suleymanoglu) (as Suleyman Suleymanoglu) (Movie)
2019 – My Beautiful Country (Merhaba Guzel Vatanim) (as Nazim Hikmet) (Movie)
2020 – The Agency (Menajerimi Ara) (as Yetkin Dikinciler)
2021 – Yesilcam (The Green Pine) (as Reha Esmer)
2021 – Barbarossa: Sword of the Mediterranean (Barbaroslar: Akdeniz'in Kilici) (as Ishak Reis)
Awards
2006 – 13th CASOD Awards (13. CASOD En Iyi Oyuncu Odulleri) – Best Actor (My Father and Son) – En Iyi Erkek Oyuncu (Babam ve Oglum)
2007 – 14th CASOD Awards (14. CASOD En Iyi Oyuncu Odulleri) – Best Actor (Blue Eyed Giant) – En Iyi Erkek Oyuncu (Mavi Gozlu Dev)
2008 – 13th Sadri Alisik Awards (13. Sadri Alisik Odulu) – Best Actor (Blue Eyed Giant) – En Iyi Erkek Oyuncu (Mavi Gozlu Dev)
2008 – 19th Ankara Film Festival (19. Ankara Film Festivali) – Best Actor (Blue Eyed Giant) – En Iyi Erkek Oyuncu (Mavi Gozlu Dev)
2010 – Afife Theatre Awards (Afife Tiyatro Odulleri) – Best Actor – Yilin En Basarili Erkek Oyuncusu
Theatre Plays
1992 – Ferhatin Yeni Acilari
1996 – Kanli Dugun
1997 – Tartuffe
1997 – Dudukculerle Fircacilarin Savasi
1998 – Kisasa Kisas
1998 – Ayrilik Muzigi
1999 – Herakles Uclemesi
2000 – Haydutlar
2000 – Zincire vurulmus Prometheus
2001 – Bu Bir Ruyadir
2002 – Kaygusuz Abdal
2002 – Olum ve Kiz
2003 – Mufettis
2004 – Yakindogu'da Emanet
2006 – Dunyanin Ortasinda Bir Yer
2009 – Profesyonel
2011 – Sems Unutma
Social
Instagram: https://www.instagram.com/yetkindikinciler/
Twitter:
Facebook:
E-Mail:
Trivia
Body Type:
Skills:
Zodiac Sign: LEO
Blood Type:
Hobbies:
Weight: 80 kg
Yetkin Dikinciler Gallery
Yetkin Dikinciler – Baska Hayal Girmesin
Yetkin Dikinciler - Baska Hayal Girmesin