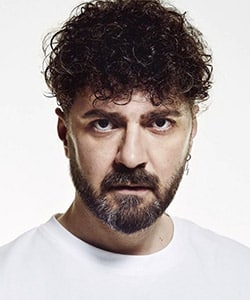 Profile
Name: Sahin Irmak
Birthdate: September 29, 1981
Birthplace: Izmir, Turkey
Height: 186 cm
Eye Color: Brown
Hair Color: Brown
Education:
Talent Agency: Onem Gunal Agent Management
Spouse: Asena Tugal (m. 2018-present)
Biography: Sahin Irmak was born in Izmir on 29 September 1981. He is from Ardahan. After graduating from high school, he did not continue his education. He started to be interested in theatre and became one of the actors of BKM Multi Release Movements (Cok Guzel Hareketler Bunlar). His character 'The Cucumber Father' became very popular. After the rise of his career, he took part in various television projects. In October 2015, Sahin Irmak was sentenced to 10 months in prison for drug use and his prison sentence was suspended.
Sahin Irmak Tv Series / Movies
2002 – Melek
2002 – Efsane
2004 – Lovelorn (Gonul Yarasi) (Movie)
2004 – Valley of Wolves (Kurtlar Vadisi)
2004 – Yolpalas Cinayeti (Movie)
2005 – Memleket Hikayeleri: Asan Bilir Karli Dagin Ardini (as Osman) (Movie)
2005 – Rose and the Thorn (Cemberimde Gul Oya)
2006 – The International (Beynelmilel) (as Sahin) (Movie)
2006 – Aliye (as Ilknur)
2007 – Kutsal Damacana (Movie)
2007 – Black Snake (Karayilan) (as Siro)
2008 – Multi Release Movements (Cok Guzel Hareketler Bunlar) (as Sahin)
2009 – Jolly Life (Neseli Hayat) (as Serkan) (Movie)
2010 – Multi Release Movements (Cok Filim Hareketler Bunlar) (Movie)
2011 – Kutsal Damacana 3: Dracoola (as Dracula) (Movie)
2011 – Asagi Yukari Yemislililer (as Sulo)
2011 – Entelkoy Efekoy'e Karsi (as Muhtar Ali) (Movie)
2012 – Sultan (as Seyhmus) (Movie)
2015 – Git Basimdan (as Latif Selamsiz) (Movie)
2015 – Eglendirme Dairesi
2016 – No Way 2 (Yok Artik 2) (as Berber Adnan) (Movie)
2017 – Dede Korkut Hikayeleri: Deli Dumrul (as Deli Dumrul) (Movie)
2018 – 2020 Jet Society (Jet Sosyete) (as Talip Yilmaz)
2018 – Benimle Oynama
2018 – Night of Knots (Dugum Salonu) (as Serkan) (Movie)
2019 – Eser Yenenler Show
2020 – Kafa Doktoru (as Davut)
2021 – Liar (Yalanci) (as Okay Aytekin)
2021 – Fandom (as Can Aslan)
2021 – Ask Yolunda (as Yusuf) (Movie)
Awards
2012 – Sadri Alisik Awards (Sadri Alisik Odulleri) – Best Actor in Musical and Comedy () – Muzikal ya da Komedi Dalinda En Iyi Erkek Oyuncu (Entelkoy Efekoy'e Karsi)
Social
Instagram: https://www.instagram.com/sahinirmak/
Twitter: https://twitter.com/sahinirmak
Facebook:
E-Mail:
Trivia
Body Type:
Skills:
Zodiac Sign: Libra
Blood Type:
Hobbies:
Weight:
Sahin Irmak Gallery