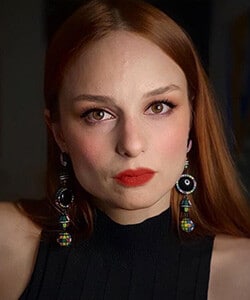 Profile
Name: Nilperi Sahinkaya
Birthdate: February 23, 1988
Birthplace: Dakar, Senegal
Height: 167 cm
Eye Color: Hazel
Hair Color: Brown
Education: Bilkent University – Faculty of Music and Art – Theatre (Bilkent Muzik ve Sanat Sanatlari Fakultesi, Tiyatro Bolumu)
Talent Agency:
Spouse:
Biography: Nilperi Sahinkaya was born in Senegal due to the fact that her father Salim Levent Sahinkaya is a diplomate. Due to her father's occupation, she went to primary school in Paris and went to secondary school in Bern. In 2003, she moved to Ankara and graduated from Charles de Gaulle French High School in 2006. After then, she studied theatre at Bilkent University during the period 2006-2010. While studying at Bilkent University, Nilperi Sahinkaya took part in daily soap opera Startfish (Deniz Yildizi).

Nilperi Sahinkaya Tv Series / Movies
Awards
2005 – Tevfik d'Or Theatre Festival (Tevfik d'Or Tiyatro Festivali) – Best Actress in Supporting Role (En Iyi Yardimci Kadin Oyuncu Odulu)
2006 – Tevfik d'Or Theatre Festival (Tevfik d'Or Tiyatro Festivali) – Special Prize of French Ambassador (Fransiz Buyukelcisi Ozel Odulu)
2019 – 24. Sadri Alisik Theatre and Cinema Awards (24. Sadri Alisik Tiyatro ve Sinema Oyuncu Odulu) – Best Actress in Supporting Role (Yardimci Rolde Yilin En Basarili Kadin Oyuncu)
Theatre Plays
2008 – Sis (as Dali)
2009 – Kel Kantocu (as Smith)
2010 – Orkestra (as Pamela)
2010 – Gise
2011 – 2012 Yaklastikca (as Alice)
2013 – 2015 Kim Korkar Hain Kurttan (as Honey)
2018 – Kalp (as Emma)
Social
Instagram: @nilperi
Twitter:
Facebook:
E-Mail:
Trivia
Body Type:
Skills:
Zodiac Sign: Crab
Blood Type:
Hobbies:
Weight:
Language: German, French, Italian, English
Nilperi Sahinkaya Gallery