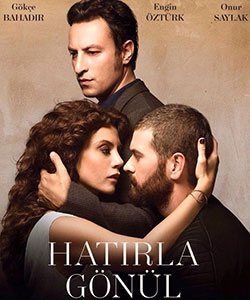 Details
Original Title: Hatirla Gonul
English Title: Gonul
Also Known As: Remember Gonul
Genre: Melodrama, Thriller, Romance
Episodes: 13
Broadcast Network: Star TV
Broadcast Period: October 11, 2015 – January 10, 2016
Production Company: Most Production
Director: Neslihan Yesilyurt
Screen Writer: Berkun Oya (Script advisor); Deniz Yesilgun, Esra Cetek
Filming Locations: Istanbul, Turkey
Synopsis
Gonul (Gokce Bahadir) is a young woman who has been raised in an orphanage. She becomes a successful surgical nurse and lives by herself in a cozy house in Istanbul. She has been engaged with Tekin (Onur Saylak) who works at the same hospital as a successful brain surgeon and plans to get married to him soon.
Tekin comes from a wealthy family and has everything in this life except love. He tries to overcome his own traumatic past and for this reason, needs Gonul's love and support. He seems to be perfect in every aspect but in fact, he has some physiological problems that he hides from everyone.

Gonul and Tekin start to make preparations for their wedding. Tekin's father does not approve this marriage because he thinks that an orphan Gonul is not a proper bride for their wealthy and prestigious family. Despite his disapproval, Gonul and Tekin do not want to end their relationship and aim to be happy together.
While Gonul goes to her wedding dress rehearsal, Tekin's ex-girlfriend appears all of a sudden and tells Gonul some disturbing secrets about Tekin. The ex-girlfriend tries to persuade Gonul to stay far away from Tekin and tries to explain that Tekin is a very dangerous man.
Gonul starts to become suspicious about Tekin when she sees him discussing with this young woman but wants to trust him no matter what. A few days later, Gonul gets some photos from this ex-girlfriend which proves that she was beaten badly in the past. Gonul decides to talk with this ex-girlfriend in order to get more information about Tekin's past. However, she finds that the ex-girlfriend has committed suicide.
After the ex-girlfriend is found dead, Gonul starts to question her own life. She thinks that she does not know Tekin very well. When she wants to postpone her wedding, she comes across the overreaction of Tekin and is beaten up.
Gonul understands that Tekin is a very dangerous man and runs away from her house. She goes to the house of Hatice mother (Lila Gurmen) who has been the manager of the orphanage where Gonul has been raised. Hatice mother does her best to protect Gonul but cannot persuade Gonul to make a complaint at the police station.
Gonul wants to forget everything at Hatice mother's house. In this journey, Gonul meets a young man Yusuf (Engin Ozturk) who helps her to get through these bad times. Yusuf lives nearby and works as a carpenter/interior designer. He recently gets out of prison and pursues to get the revenge of his dead son.
Yusuf actually comes from a wealthy family but he does not want to communicate with them. His little son was killed due to his family's enemies and Yusuf had to kill the hitman while protecting his son and his wife. For this reason, Yusuf spends 3 years in prison and vows to take his revenge.
While pursuing to take his revenge, Yusuf falls in love with Gonul.
Now, Yusuf needs to make a hard decision between his revenge and his love. At the same time, Yusuf and Gonul need to overcome the psychopath ex-fiancee Tekin who searches Gonul everywhere and does not want to leave them alone.
In Gonul (Hatirla Gonul) tv series story, you will explore the story of a young woman Gonul who loses her memory by the car accident and starts to live with her psychopath ex fiancee Tekin who was indirectly responsible for it. Will manage to escape from her psychopath ex fiancee Tekin? Will Yusuf choose to take his revenge or live happily his lover Gonul? Will Gonul manage to trust another man after she discovers that Tekin is a dangerous man?
Gonul (Hatirla Gonul) Tv Series Cast
Gokce Bahadir as Gonul Celik
Engin Ozturk as Yusuf
Onur Saylak as Tekin
Sezin Akbasogullari as Selma
Ozcan Tekdemir as Ozlem (business partner of Yusuf)
Suleyman Felek as Mahmut (employee of Yusuf)
Selen Ozturk as Figen
Macit Koper as Ensar Ozkara
Turgay Kanturk as Mazhar (father of Tekin)
Ali Ipin as Kursat Buyuksahin
Kaya Akkaya as Alper
Nedim Suri as Ridvan
Tugrul Tulek as Ali (doctor friend of Tekin)
Bigkem Karavus as Nese (sister of Tekin)
Ezgi Tombul as Aylin Ozbey
Lila Gurmen as Hatice Yener
Cahit Gok as Hilmi Yavuzcan
Berrin Seker Civil as Lale
Perihan Unlucan as Sermin Buyuksahin
Serkan Rutkay Ayikoz as Sabit
Hulya Sen as Mehtap
Irem Kahyaoglu as Aysel
Sevilay Simsek as Ilknur Ayan
External Links
Official Site: Broadcast Network
English Wikipedia:
Imdb:
You Might Also Like
Deniz Inside My Heart (Kalbimdeki Deniz)
Meryem – Tales Of Innocence
Gonul (Hatirla Gonul) Tv Series Trailer
Pelin Budak | Hatırla Gönül