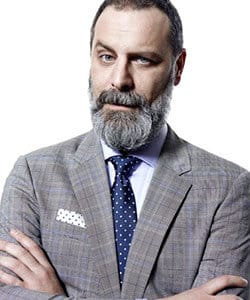 Profile
Name: Ozan Guven
Birthdate: May 19, 1975
Birthplace: Nuremberg, Germany
Height: 175 cm
Eye Color: Brown
Hair Color: Black
Education: Mimar Sinan University State Conservatory – Modern Dance (Mimar Sinan Universitesi Devlet Konservatuvari Modern Dans Bolumu)
Spouse: Turkan Derya (m. 2005-2010)
Biography: Ozan Guven's parents are of Bulgarian descent. He was born in Germany after his family migrated from Turkey to Germany to work there. His family returned back to Turkey in 1981. Ozan Guven graduated from Mimar Sinan University, he took acting lessons from Izmir Municipality Conservatory. He worked at Sahika Tekand Theatre. Ozan Guven made his debut with his role in popular Turkish drama Second Spring (Ikinci Bahar). He got married Turkan Derya whom he met while shooting Second Spring.
Ozan Guven Tv Series / Movies
1998 – Grow the Flower (Cicegi Buyutmek)
1998 – 2001 Second Spring (Ikinci Bahar) (as Ulas)
2000 – Balalaika (Balalayka) (as Mehmet) (Movie)
2000 – Star Hill (Yildiz Tepe) (Movie)
2001 – What a Relief (Dunya Varmis) (as Cetin)
2002 – My Couch (Kocum Benim) (as Umut)
2002 – Asli and Kerem (Asli ile Kerem) (as Kerem)
2002 – Cloud in the Sky (Havada Bulut) (as Necip)
2002 – Call Me Brother (Bana Abi De) (as Yigit)
2002 – Nine (Dokuz) (as Kaya) (Movie)
2003 – 2005 An Istanbul Fairytale (Bir Istanbul Masali) (as Demir Arhan)
2004 – Toss-Up (Yazi Tura) (as Soldier) (Movie)
2004 – G.O.R.A (as Robot 216) (Movie)
2005 – Istanbul Tales (Anlat Istanbul) (Movie)
2005 – Thief and Police (Hirsiz Polis) (as Kibar Necmi)
2008 – A.R.O.G. (as Taso) (Movie)
2008 – 2010 Dear Family (Canim Ailem) (as Ali)
2010 – Dragon Trap (Ejder Kapani) (Movie)
2010 – Wild West (Yahsi Bati) (as Lemi Galip) (Movie)
2010 – Grandmother (Anneannem) (Movie)
2010 – Guneydogudan Oykuler Once Vatan (as Erol)
2010 – Arka Sokaklar
2012 – Dark Red (Koyu Kirmizi) (as Cemil Senel)
2012 – 2014 Magnificent Century (Muhtesem Yuzyil) (as Damat Rustem Pasha)
2014 – Very Soon (Pek Yakinda) (as Bogac Boray) (Movie)
2016 – My Mom's Wound (Annemin Yarasi) (as Borislav Milic) (Movie)
2017 – 2018 Phi (Fi) (as Can Manay)
2017 – Arif V 2016 (as Robot 216) (Movie)
2017 – Season Issue (Iklim Meselesi)
2018 – Jet Sosyete (as Levent Cikrikcioglu)
2019 – Karakomik Filmler (as Mulakatci) (Movie)
2020 – The Choice (Babil) (as Egemen)
Awards
2000 – 22. Siyad Turkish Cinema Awards (22. Siyad Turk Sinemasi Odulleri) – Promising Young Actor (Balalaika) – Umut Veren Genc Erkek Oyuncu (Balalayka)
2005 – 1. White Pearl TV Awards (1.Beyaz Inci TV Odulleri) – Best Actor in Supporting Role (An Istanbul Fairytale) – En Iyi Yardimci Erkek Oyuncu (Dram) (Bir Istanbul Masali)
Screenwriter
2016 – My Mom's Wound (Annemin Yarasi) (Movie)
Social
Instagram: https://www.instagram.com/ozan.guven/
Twitter: https://twitter.com/guvenozan
Facebook: https://www.facebook.com/OzanGuvenOfficial
Youtube: https://www.youtube.com/channel/UCGpewb4h2qmQwk9suAyVrOg
Trivia
Body Type:
Skills:
Star Sign: Taurus
Blood Type:
Hobbies:
Weight: 67 kg
Ozan Guven Gallery
Ozan Guven Magazine Cover
Ozan Guven & Halit Ergenc on National Geographic
Ozan Guven & Halit Ergenc